---
In this series of blog posts, I've been looking at how financial services companies can build employee experiences and value propositions that attract rare talent, especially young professionals with tech and digital skills. This discussion would not be complete without considering compensation, recognition and performance management.
Established financial services companies—especially banks—remain competitive with most other industries when it comes to remuneration. In fact, the industry has a reputation for paying well and providing generous bonuses to top performers. However, even this element of the employee value proposition is being disrupted by digital technologies.
Financial services companies thus need to look beyond simply paying well to creating a workplace where employees feel their work is appreciated and recognized. In addition to offering fair compensation, banks and insurers need to relook their approach to performance management and recognition.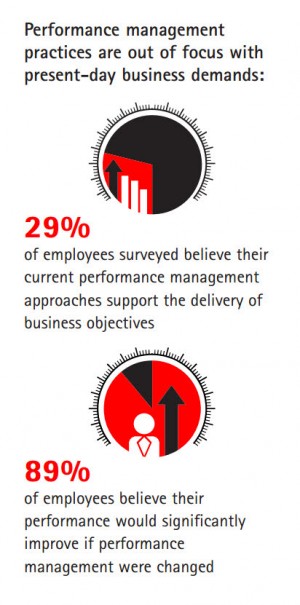 An important step in this regard is reorienting performance management and recognition programs around the priorities of the digital age. Recent global Accenture research surveying employers and employees shows that many organizations are not managing what matters in the digital age.
Only around a third of respondents believe that performance management effectively promotes collaboration and creativity. They are also not confident that performance management succeeds in traditional basics such as developing and growing employees (just 40 percent are), retaining employees (28 percent), and making fair decisions regarding bonuses, pay raises and promotions (36 percent).
To change this picture, financial services organizations should instead look at how they can evolve performance management around the concepts of continuous feedback and professional development.  Organizations need to provide frequent coaching—as well as ongoing, informal, real-time conversations—to move beyond "managing" performance to "improving" performance.
This begins with the insight that performance management is about more than the formal assessment of performance (often for the purposes of setting increases and bonuses). It's also about developing people to their full potential. Feedback conversations need to about building on strengths and developing careers with a forward-looking focus.
Earlier in this series, I mentioned the importance of segmenting the workforce to offer a more personalized employee experience.  This is especially relevant in performance management discussions, where focusing on a person's personal impact and development can be more constructive than ranking him against his peers.
Some 41 percent of respondents in our research say that "one-size-fits all" performance management practices have a major negative impact on performance management. Sixty percent of respondents believe that the use of ratings creates a negative experience for everyone except the few at the top.
We also shouldn't neglect the importance of employee recognition in this discussion. This might not always be a tangible reward, but simply take the form of public thanks for a job well done. Leaders should make a point of recognizing performance on a day-to-day basis to show employees that their contributions are valued.