---
In our last blog, we reviewed the importance of implementing a robust control framework in securing Internal Model Method (IMM) regulatory approval. Another key element in IMM solution design is the search for efficiencies within ongoing regulatory and business initiatives. Typically, interdependencies exist between programs within the same bank, due to overlap in regulatory initiatives across the banking industry. Project stakeholders should be aware of previous, current and upcoming projects that might share common features with the IMM readiness program. Exploiting synergies can yield significant time and cost savings if identified during the IMM program's initial planning phase.
Knowledge of interdependencies and related requirements across programs can inform the strategic design of the IMM solution. For example, common databases, market data sets and simulation models may be needed for multiple bank initiatives, with only slight variations in requirements. A cross-program approach to addressing the bank's needs can result in more cost-effective strategic platforms with longer-term viability.
A broader spectrum of bank regulatory programs involves operational aspects related to IMM. A comprehensive review of all regulations should be performed to identify these intersection points. Related regulation impacts and bank programs should be tracked and monitored to avoid duplication of efforts and to encourage synchronization of proposed solutions.
Program sponsors and executive leadership play a critical role in identifying overlapping program needs and opportunities. For example, IMM readiness programs often tie in to other bank programs related to risk management, risk governance, stress testing and model risk management. All program participants should be encouraged to consider opportunities to leverage or build strategic solutions that apply to multiple current and future requirements. Common templates, frameworks and documentation standards used across programs can support a consistent regulatory message and improve operational efficiency.
In the next blog in this series, we will look at self-assessment and its critical role in complying with IMM regulations.
For more information, see SlideShare deck: "Considerations for an Effective Internal Model Method Implementation".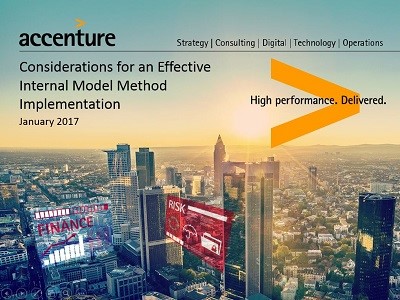 Visit www.accenture.com/RegulatoryCompliance for latest insights on regulatory remediation and compliance transformation.
Disclaimer
This blog is intended for general informational purposes only, does not take into account the reader's specific circumstances, may not reflect the most current developments, and is not intended to provide advice on specific circumstances. Accenture disclaims, to the fullest extent permitted by applicable law, all liability for the accuracy and completeness of the information in this blog and for any acts or omissions made based on such information. Accenture does not provide legal, regulatory, audit or tax advice. Readers are responsible for obtaining such advice from their own legal counsel or other licensed professional.
About Accenture:
Accenture is a leading global professional services company, providing a broad range of services and solutions in strategy, consulting, digital, technology and operations. Combining unmatched experience and specialized skills across more than 40 industries and all business functions—underpinned by the world's largest delivery network—Accenture works at the intersection of business and technology to help clients improve their performance and create sustainable value for their stakeholders. With more than 373,000 people serving clients in more than 120 countries, Accenture drives innovation to improve the way the world works and lives. Its home page is www.accenture.com.
Copyright © 2017 Accenture. All rights reserved.
Accenture, its logo, and High Performance Delivered are trademarks of Accenture. This document is produced by Accenture as general information on the subject. It is not intended to provide advice on your specific circumstances.