Other parts of this series:
---
Culture starts and ends with people. I have heard it said that "culture eats strategy for breakfast," so it doesn't matter what your stated strategy (or policy on conduct) is if the underlying culture does not align to it. Creating an ethical culture depends on establishing ethical organisational values and principles, then making sure every person in the organisation understands and aligns with those principles and feels empowered to make daily decisions based on them.
In my previous post, I explained that driving a cultural transformation founded in ethics and empowerment is the key to resolving the ethics crisis in the financial services sector, and I shared some pitfalls to watch out for in driving this kind of transformation. In this final post, I'll provide a framework for creating the kind of culture that will support responsible growth in the financial services industry well into the future.
Four questions for individuals in an organisation
For a cultural transformation to be successful, every individual must take ownership of her or his part in both driving and sustaining an ethical culture. That ownership is based on each individual's responses to the following four questions:
Am I responsible for doing the right thing?
Am I capable of doing the right thing?
Am I motivated to do the right thing?
Do I know what the right thing is?
Answering "yes" to these questions depends on a host of factors, including awareness, accountability, competence, incentives, authority, and certainly, guiding organisational principles and values. If the answer to any of these questions is "no," the organisation must address these underlying factors, or it will struggle to transform itself into an ethical firm.
An ethical value proposition
An ethical value proposition (EVP) is the "cornerstone of transformation" and defines the firm's purpose and values. The EVP is the rallying point for the entire organization, providing guidance and direction in every circumstance. A strong EVP:
Engages senior leadership and embeds ethics as a core leadership principle
Builds ethics into day-to-day decision making
Rebalances compensation away from short term financial gain toward long term customer satisfaction
Clarifies decision making to unite the organisation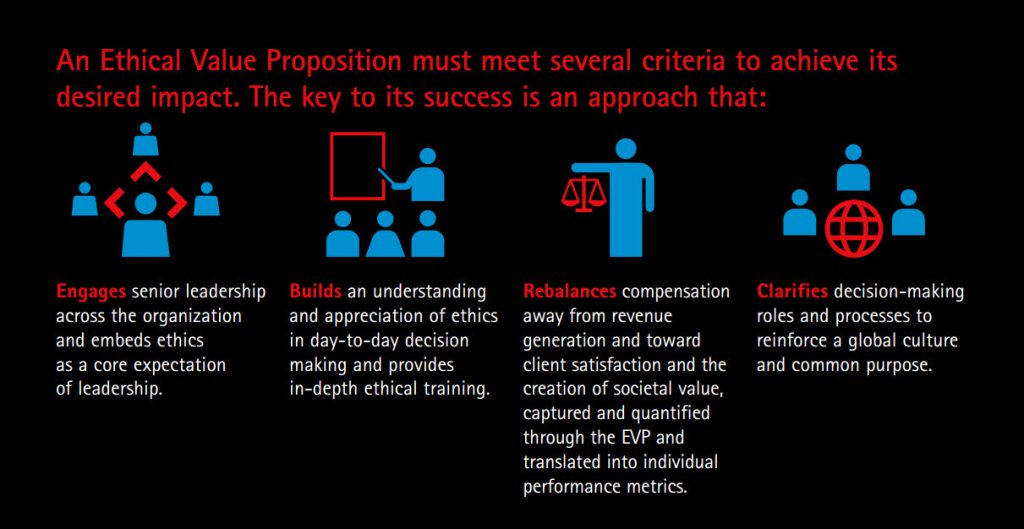 The EVP serves as a touchstone all employees can use to ensure they are behaving in an ethical manner in any situation.
How to make the transformation
Cultural transformations are undoubtedly complex, and every organisation will have its own challenges in driving change. However, the following three steps provide a simplified template any firm can use to begin turning its culture into an ethical culture:
Perform an assessment: Before any change can be made, you need to understand what's driving unethical behaviour within your organisation. Focus groups, employee surveys, executive interviews, and formal culture assessment tools are all methods for identifying and understanding root cause.
Identify opportunities and prioritise actions to take: The results of the assessment will reveal opportunities for change. By taking the approach of "what good looks like," leaders and HR professionals can build out a prioritised organisational redesign that addresses values, leadership style, corporate strategy and structure, compensation and incentives, compliance, and (above all) attitude.
Engage and socialise: Successful cultural transformation depends on the engagement and support of the entire employee base. Cultural transformation is a long term effort that must be embedded into every aspect of the business. The Human Resources function plays an extremely important role in this transformation, ensuring that ethics and cultural norms are integrated into all people processes, including the career development process—from recruitment to onboarding to skills and knowledge development to promotion. Performance management and how people are rewarded are especially critical areas for driving ethical behaviour. In fact, ethical behaviour should become a key differentiator when identifying and rewarding high performance, and rewards should be intrinsic as well as external.
The benefits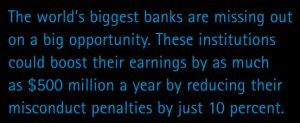 What happens when a financial institution adopts an ethical culture? A lot. First of all, there are immediate financial returns in terms of reduced or eliminated fines and legal costs, which can save hundreds of millions of dollars. Brand equity improves as well, as a firm develops a reputation for ethical practices. Brand equity frequently translates to improved financials.
Brand equity has another benefit. It makes the firm more attractive to new, young talent—those Millennials whose distrustful view of financial services has turned them away from the industry. In fact, with their focus on social responsibility and integrity, Millennials can be a very valuable asset in terms of sustaining an ethical culture.
Lastly, as firms independently adopt ethical cultures, there is an overflow effect to the industry as a whole, which will help change its image in constituents' eyes for the long term.
Remember this
What's most important to keep top of mind is that a cultural transformation is much more about attitude and behaviour and much less about policies and practices. In times of rapid change and multiple priorities, individuals must be agile decision makers, and their decisions must be based on an ethic that spans a variety of scenarios. A successful, ethical, cultural transformation requires a long term change in values, supported by an organisational structure that empowers employees to make the right decisions—ethical decisions—regardless of the circumstances.
To learn more about creating an ethical culture, please see: