---
In my previous posts, I have given you an overview of what constitutes the legacy technology trap, discussed some of its root causes, offered insights into making a compelling business case for change, and outlined some of Accenture's tools and capabilities to help you effectively manage your legacy transformation.
To conclude the series, I will give you some tips on how you can make sure your organization will not find itself stuck in the legacy technology trap again.
Directing future change investment
To reduce the risk of a new legacy problem developing, future change investment should be directed effectively.
Accenture can help by implementing new models of change planning based on our Investment Portfolio Management Model (IPMM), shown below. This model provides the playbook for changing the nature of the dialogue on change planning, driving up the maturity of the dialogue to drive greater focus on and alignment to business strategic goals.
The IPMM does this by:
Resetting the approach to change-planning across the organization.
Increasing the degree of collaborative dialogue with line-of-business teams to improve the quality of needs analysis.
Providing toolkits to better score and qualify future business benefit from proposed initiatives, enabling triage of demand and better alignment to supply in the change organization.
Increasing rigor in prioritization and delivery of business outcomes in the change portfolio.
Ensuring appropriate strategic consideration is given to key CIO objectives, such as avoiding accumulation of future legacy "debt."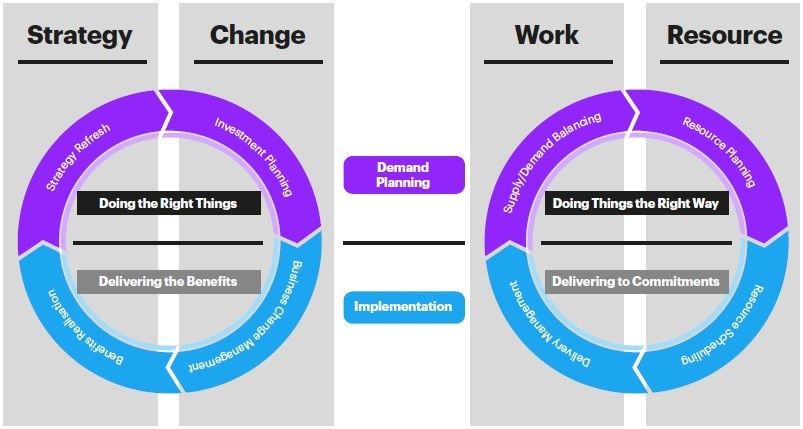 As the maturity of the dialogue with key business stakeholders increases, it elevates the legitimacy of concerns related to technical debt. A new "virtuous circle" develops, and technical debt becomes an integral factor in the evaluation of change activities, no longer relegated to the background. In this way, business representatives become active stakeholders in the enterprise architecture, not just users.
The governance of change planning and the enterprise architecture should include modified behaviors that ensure new-found maturity in this domain.
In summary, the legacy technology trap is likely to be prevalent and persistent in the business landscape for the foreseeable future. But it's a challenge that can be overcome with the right level of focus in the organization and the best tools and strategies.
In the end, the legacy technology trap may not only be a hurdle to overcome; rather, it just might serve as a launchpad for greater business agility.
Learn more in these reports:
Reference:
"Overcoming the Legacy Technology Trap—A Playbook for Legacy IT transformation in the Insurance Sector," Accenture, 2017. Access at https://www.accenture.com/us-en/insight-overcoming-the-legacy-technology-trap.