---
In the previous blog in this series, we looked at some actions that banks may need to take to reconcile the Fundamental Review of the Trading Book (FRTB) and Volcker rules as they pertain to trading desk activities.
In addition to the trading desk structure, trading desk optimization and trading book definition, banks should examine the following areas:
Desk Level Disclosure.

Infrastructure changes should support public disclosure of capital calculations, P&L attribution and back testing results due to enhanced disclosure requirements. Specifically, banks should augment their reporting infrastructure to be able to report the capital charges and desk information as required under Volcker and FRTB rules.

Desk Level Key Attributes. FRTB calls for definition and documentation of Trading Desks' attributes (such as defined group of traders or trading accounts, clear reporting lines, compensation policy linked to objectives, and strategy). While Volcker rules do not explicitly mandate risk policy requirements for all sized banks, FRTB rules have strict governance controls built in, which banks will need to codify and implement internally.
Implementation Synergies. Volcker and FRTB are strategic programs in most banks, calling for implementation across regulatory regimes with overlapping areas of influence. In our view these regulatory programs should be viewed as strategic opportunities to drive synergies in both programs with an eye to keeping costs and timelines manageable.
Overall, it is clear that Volcker and FRTB rules will coexist in the near future and banks will need to re-optimize their compliance programs to both set of rules to stay ahead of the curve and use these programs to create business advantage.
For more information, see our presentation "How the Fundamental Review of Trading Book Impacts the Volcker Regime Trading Desk Structure."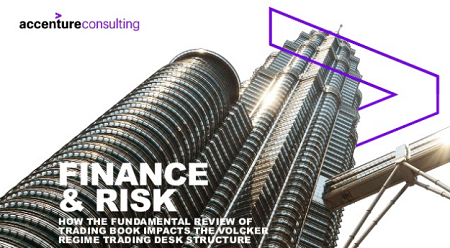 References:
"Minimum capital requirements for market risk," Basel Committee on Banking Supervision, Standards, January 2016. Access at: https://www.bis.org/bcbs/publ/d352.htm
Visit www.accenture.com/RegulatoryCompliance for latest insights on regulatory remediation and compliance transformation.
Disclaimer
This blog is intended for general informational purposes only, does not take into account the reader's specific circumstances, may not reflect the most current developments, and is not intended to provide advice on specific circumstances. Accenture disclaims, to the fullest extent permitted by applicable law, all liability for the accuracy and completeness of the information in this blog and for any acts or omissions made based on such information. Accenture does not provide legal, regulatory, audit or tax advice. Readers are responsible for obtaining such advice from their own legal counsel or other licensed professional.
About Accenture:
Accenture is a leading global professional services company, providing a broad range of services and solutions in strategy, consulting, digital, technology and operations. Combining unmatched experience and specialized skills across more than 40 industries and all business functions—underpinned by the world's largest delivery network—Accenture works at the intersection of business and technology to help clients improve their performance and create sustainable value for their stakeholders. With more than 373,000 people serving clients in more than 120 countries, Accenture drives innovation to improve the way the world works and lives. Its home page is www.accenture.com.
Copyright © 2017 Accenture. All rights reserved.
Accenture, its logo, and High Performance Delivered are trademarks of Accenture. This document is produced by Accenture as general information on the subject. It is not intended to provide advice on your specific circumstances.