---
As we have discussed in previous blogs in this series, there are important differences between the Volcker Rule and the Fundamental Review of the Trading Book (FRTB) in areas including trading desk structure, trading desk optimization and trading book definition.
In our view, Volcker and FRTB will co-exist for some time and banks should address both sets of regulations as they seek compliance and position themselves for sustainable business advantage.
Banks are encouraged to explore the following actions:
Trading desk structure.  Banks' trading desk structure should align with the FRTB definition, with potential isolation of desks used specifically for hedging internal risk transfers.1 Banks should strive for a single desk structure which satisfies both Volcker and FRTB requirements.
Trading desk optimization.  Banks should enhance their trading desks and trading strategies. This would affect overall business strategy and is likely to result in a rationalization of trading desks.  A trading desk optimization assessment, if done within the realm of allowed activities under the Volcker rule, gives banks the flexibility to fine-tune their trading desks with the goal of improving their capitalization structure.
Trading book definition.  Banks can anticipate a revision of the boundaries between trading books and banking books – with more explicit requirements for what instruments are included and excluded, and limitations on reclassifications to reduce the potential for regulatory arbitrage.2 The Volcker rule did not place any restrictions on classification of instruments, just what instruments and/or activities were permitted.  In our view, banks should conduct a comprehensive assessment of their trading instruments across desks prior to classification.
In the final blog in this series, we will look at additional actions banks can anticipate as FRTB joins Volcker in regulating trading desk activities.
For more information, see our presentation "How the Fundamental Review of Trading Book Impacts the Volcker Regime Trading Desk Structure."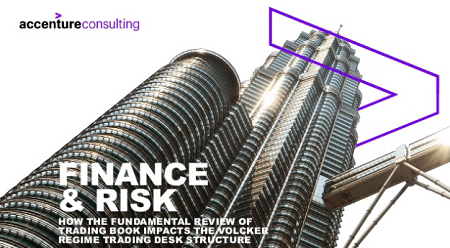 References:
"Minimum capital requirements for market risk," Basel Committee on Banking Supervision, January 2016. Access at: http://www.bis.org/bcbs/publ/d352.htm
Ibid
Visit www.accenture.com/RegulatoryCompliance for latest insights on regulatory remediation and compliance transformation.
Disclaimer
This blog is intended for general informational purposes only, does not take into account the reader's specific circumstances, may not reflect the most current developments, and is not intended to provide advice on specific circumstances. Accenture disclaims, to the fullest extent permitted by applicable law, all liability for the accuracy and completeness of the information in this blog and for any acts or omissions made based on such information. Accenture does not provide legal, regulatory, audit or tax advice. Readers are responsible for obtaining such advice from their own legal counsel or other licensed professional.
About Accenture:
Accenture is a leading global professional services company, providing a broad range of services and solutions in strategy, consulting, digital, technology and operations. Combining unmatched experience and specialized skills across more than 40 industries and all business functions—underpinned by the world's largest delivery network—Accenture works at the intersection of business and technology to help clients improve their performance and create sustainable value for their stakeholders. With more than 373,000 people serving clients in more than 120 countries, Accenture drives innovation to improve the way the world works and lives. Its home page is www.accenture.com.
Copyright © 2017 Accenture. All rights reserved.
Accenture, its logo, and High Performance Delivered are trademarks of Accenture. This document is produced by Accenture as general information on the subject. It is not intended to provide advice on your specific circumstances.