---
In our last blog, we discussed the importance of banks defining what is and is not material to an internal model methodology before receiving regulatory approval and launching a large-scale transformation program. Once materiality has been properly defined, the next key consideration is how to establish a clear, tangible set of deliverables that point to the target state solution and demonstrate effectiveness. Ideally, these should be tracked by a central program management function, with progress reported to stakeholders on a regular basis.
In program tracking, an over-reliance on qualitative reporting can result in a subjective and often overly optimistic view of progress. Quantitative measures—agreed upon at the inception of the program—can help decrease this bias.
Progress metrics should be defined for all stages of the IMM process, such as data sourcing; onboarding and reconciliation; pricing, simulation and valuation modeling; and collateral and netting set aggregation. One approach to tracking these and other elements is to leverage a matrix that looks at all stages of the process using a consistent understanding of the exposure population, such as asset class or product type, across measurements. This helps the program management team have a base standards of comparison across the IMM process and can then easily identify bottlenecks and move quickly to remediation.
Another way to measure progress is to use a consistent measurement approach across all work streams to create a composite metric for the entire program. For example, a straightforward representation of progress, such as a percentage complete against work stream milestones, can be supported by tracking within project plans. A holistic measurement approach helps the bank to forecast IMM completion for the remainder of the project. However, for the percentage complete to be accurate and useful, it is important that milestones are clearly defined and the work effort to completion be well-understood by the program.
We have found that using a combination of front-to-back and composite metrics allows an organization to have a clear and detailed view of tracking IMM progress. The front-to-back view allows for identification of trouble spots and bottlenecks, while the composite view creates a framework for progress benchmarking and forecasts of actual delivery. These quantitative progress tracking methods should complement and agree with qualitative details of work efforts, with each providing insight and yielding different benefits.
In our next blog, we will look at the implementation of a robust control framework.
For more information, see SlideShare deck: "Considerations for an Effective Internal Model Method Implementation"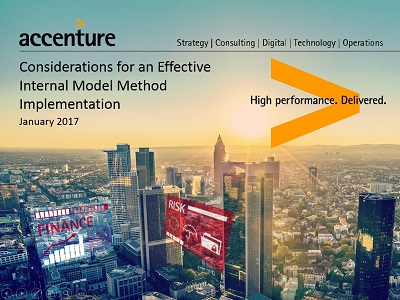 Visit www.accenture.com/RegulatoryCompliance for latest insights on regulatory remediation and compliance transformation.
Disclaimer
This blog is intended for general informational purposes only, does not take into account the reader's specific circumstances, may not reflect the most current developments, and is not intended to provide advice on specific circumstances. Accenture disclaims, to the fullest extent permitted by applicable law, all liability for the accuracy and completeness of the information in this blog and for any acts or omissions made based on such information. Accenture does not provide legal, regulatory, audit or tax advice. Readers are responsible for obtaining such advice from their own legal counsel or other licensed professional.
About Accenture:
Accenture is a leading global professional services company, providing a broad range of services and solutions in strategy, consulting, digital, technology and operations. Combining unmatched experience and specialized skills across more than 40 industries and all business functions—underpinned by the world's largest delivery network—Accenture works at the intersection of business and technology to help clients improve their performance and create sustainable value for their stakeholders. With more than 373,000 people serving clients in more than 120 countries, Accenture drives innovation to improve the way the world works and lives. Its home page is www.accenture.com.
Copyright © 2016 Accenture. All rights reserved.
Accenture, its logo, and High Performance Delivered are trademarks of Accenture. This document is produced by Accenture as general information on the subject. It is not intended to provide advice on your specific circumstances.
If you require advice or further details on any matters referred to, please contact your Accenture representative.