---
As we have discussed in previous blogs, financial services firms have traditionally designed and implemented anti-money laundering (AML) policies and standards to address the specific requirements of an operating region.  This approach has often led to variations from one operating region to another in how AML risk is monitored and managed.
Financial services firms' focus has been on local regulatory compliance and on meeting specific jurisdictional requirements.  This has led to the creation of custom-built internal control structures—concentrated on local and/or regional banking operations—resulting in limited effectiveness on an enterprise-wide basis.  Senior management, for example, receives disparate information on AML compliance initiatives and compliance deficiencies.
There are other downsides to this regional approach, including high costs due to multiple systems and controls needed to monitor and manage AML compliance from one jurisdiction to another.  With multiple (and inconsistent) approaches to AML compliance and risk decision-making, the accountability for, and management of, AML compliance is dispersed throughout the organization, and there are limited opportunities for enterprise alignment and for cross-regional learning.
Banks, insurers and capital markets firms are now beginning to agree upon a single enterprise standard that spans all operating regions.  This standard should be based upon a global, consistent level of AML processing across all of the financial institution's operating regions and lines of business, with some local adaptability on an exception basis.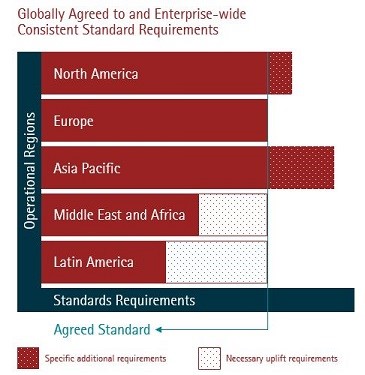 There should be a cross-regional focus and enterprise alignment in setting out guidelines for regulatory compliance, along with standardized internal controls with minimal regional variation where required.  In addition, firms should adopt a single agreed-upon approach to the systems and controls needed to monitor and manage AML risk within banking operations.
A single enterprise-wide AML standard can deliver benefits that include cost efficiencies (realized through consolidated systems and standardized AML processing) and a single authority with central accountability for AML policies and standards.  A single standard also supports the use of shared processes and infrastructure, increasing overall efficiency.
The arguments for a single enterprise-wide AML standard are strong.  In my next blog I will look at the steps toward implementing such a standard.
For more information, view our presentation on the need for a global consistent standard for anti-money laundering compliance.