---
Self-assessments are critical to compliance with Internal Model Method (IMM) regulations.  Ideally, self-assessment should be structured to encompass all regulatory aspects as well as bank functions and processes.  This can help the bank evaluate its performance against a broad spectrum of IMM-related regulatory requirements while providing insight into IMM readiness across all processes, data, systems, models and technology.  The self-assessment should be objective, and, although conducted by a third party, should take into consideration input from subject matter specialists (SMSs) within the bank.  This enables identification of potential gaps.
The basis for a well-organized self-assessment is the collection and display of data.  This should be structured to allow for summary views by leadership, as well as the development of metrics to show progress on gap identification and closure.   To demonstrate a clear mapping of the regulations and their requirements, the self-assessment should be organized around the IMM regulation and should articulate the bank's point of view regarding interpretation and adherence to the regulation.  There should be clear escalation protocol and documentation should the business lead disagree with either the regulation interpretation or the findings.
Self-assessments deliver real-time information on how the organization is currently complying with explicit requirements.  It may be beneficial to perform a self-assessment at the start of the project as a baseline, during more mature phases as a progress evaluation, and immediately before the examination to determine preparedness.  The effectiveness of self-assessments would depend in part upon the involvement of bank SMSs; upon the structure of the data collection process; and upon having a clear rationale for any exclusions or inclusions in IMM that deviate from the regulation, along with appropriate sign-offs.  Decisions or outcomes should be catalogued and documented to make the self-assessment more complete.
Another important success factor in IMM compliance―one which will be discussed in the next blog in this series―is the articulation of a coherent target operating model incorporating stakeholder buy-in.
For more information, see SlideShare deck: "Considerations for an Effective Internal Model Method Implementation" .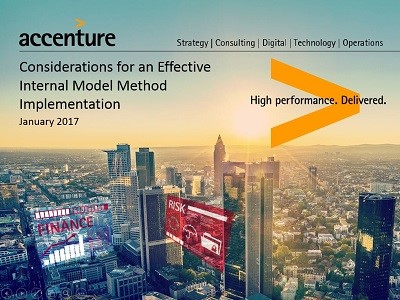 Visit www.accenture.com/RegulatoryCompliance for latest insights on regulatory remediation and compliance transformation.
Disclaimer
This blog is intended for general informational purposes only, does not take into account the reader's specific circumstances, may not reflect the most current developments, and is not intended to provide advice on specific circumstances. Accenture disclaims, to the fullest extent permitted by applicable law, all liability for the accuracy and completeness of the information in this blog and for any acts or omissions made based on such information. Accenture does not provide legal, regulatory, audit or tax advice. Readers are responsible for obtaining such advice from their own legal counsel or other licensed professional.
About Accenture:
Accenture is a leading global professional services company, providing a broad range of services and solutions in strategy, consulting, digital, technology and operations. Combining unmatched experience and specialized skills across more than 40 industries and all business functions—underpinned by the world's largest delivery network—Accenture works at the intersection of business and technology to help clients improve their performance and create sustainable value for their stakeholders. With more than 373,000 people serving clients in more than 120 countries, Accenture drives innovation to improve the way the world works and lives. Its home page is www.accenture.com.
Copyright © 2017 Accenture. All rights reserved.
Accenture, its logo, and High Performance Delivered are trademarks of Accenture. This document is produced by Accenture as general information on the subject. It is not intended to provide advice on your specific circumstances.