Other parts of this series:
---
In my last post, I explained how some CIOs today might be struggling with how to innovate to deliver timely, incremental value at a reasonable cost. The keys to success for leading innovators involve achieving a culture of nimble innovation, exploring the opportunity of working with external organizations, and embracing new initiatives that go beyond IT.
There is a critical demand for innovation to be quicker, more incremental and focused on achieving specific outcomes aligned to business goals. For that reason, it is important to set the stage for a culture of innovation. I will try to outline how in this post.
Strategies for a culture of nimble innovation
In the past, organization's approaches to innovation have often been disjointed or not tied to any business goal—from allowing a percentage of employees' time to be dedicated on innovation, to conducting various innovation contests. The results from such initiatives have been variable and sometimes disappointing. And while only a few years ago, 71 percent of surveyed executive said they expect the technology organization to be the main generator of innovation, today, only 34 percent hold that expectation.
In a market where it is important to be first or fast, it might no longer be cost effective for companies to set up innovation centers or restrict innovation to their own backyard. Leading CIOs are creating liquid workforces by taking advantage of the on-demand economy to help them fast track innovation and make the search for innovative practices integral to the fabric of the organization.
To create the right culture and mind-set for nimble innovation:
Collaborate to create new ideas—bridgemakers establish an ecosystem beyond the traditional technology organization. They work with organizations to share suggestions, network with other businesses, and manage the innovation from ideas to deployment.
Look to external organizations—fuel ideas through acquisitions or in collaboration.
Partner with higher education institutions for low-cost innovation—academic institutions are often willing to innovate on specific business problems, while opening new relationships with highly skilled students who could become the organization's future talent pool.
Use fluid approaches—employ crowdsourcing, bridgemakers, or academic institutions to form external innovation networks. Take advantage of the innovation process as well as the ideas from a broader ecosystem.
The leading innovators
Going forward, a new frontier of innovation is being established. Based on our research1:
77 percent of companies surveyed are taking part in open innovation initiatives, using application programming interfaces to exchange data and technology platforms to deliver better outcomes.
60 percent plan to engage new digital partners within their respective industries over the next two years (41 percent selected outside of their industries).
External organizations, including digital technology leaders, cloud platform leaders and digital partners, were ranked as the top three contributors to innovation to support their organization's strategic initiatives: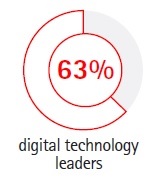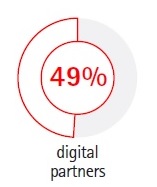 How can Accenture help?
As I said in my previous post, the Accenture Innovation Architecture can provide you with the right framework for innovation, and our innovation architecture combines key elements at every stage.
Accenture Labs could inspire and guide clients to create innovation that lead to new sources of business advantage. Accenture Labs brings fresh insights and innovations to our clients across the world and across industries, helping them capitalize on dramatic changes in technology, business and society. Accenture Labs' applied research defines the future for large enterprises, shapes the technology market and creates strong business results for our clients. Accenture Labs works closely with clients to bake industry acumen into technology exploration.
Accenture Studios brainstorm and pilot leading-edge client-specific solutions using the latest technologies and partners. Accenture Studios excel at innovative design thinking, rapid prototyping and creating minimum viable products for business operations.
In my next post, I will discuss ways organizations can cultivate innovation by looking beyond IT. I will also look further into Accenture's Innovation Architecture, specifically at Accenture Innovation Centers and Accenture Delivery Centers.
To learn more, take a look at the A new frontier for technology: Using nimble innovation to drive profitable business growth report.
 1. Accenture Technology Vision 2016