---
Business leaders are fast recognizing the potential of advanced robotic process automation (RPA) systems to boost the performance of their managers. These "intelligent machines" are able to perform a variety of complex tasks and free managers to concentrate on more strategic endeavours. Furthermore, their ability to understand and learn from the activities they perform enables them to provide managers with quick, well researched and carefully analyzed advice.
These intelligent RPA systems, which use the latest cognitive computing technology, have huge potential to step up management effectiveness.
To be successful, however, they must have the support of the managers they're intended to help. How will managers respond to electronic assistants telling them what to do? Will they embrace or reject them? Will they encourage or sabotage the progress of intelligent machines in the workplace?
To find out, we studied the impact of cognitive computing on managers throughout the world. Our research, the first of its kind, surveyed 1,770 managers in 17 industries across 14 countries. They ranged from first-line managers to executives. Our goal was to assess the potential impact of cognitive computing on their jobs and to understand their perceptions of the how their work would change as a result of this new technology. The results are very interesting.
The vast majority of managers, 84 percent, believe intelligent machines will make them more effective and make their work more interesting. This is certainly good news for business leaders eager to reap the benefits of cognitive computing in the workplace.
However, there are some big hurdles:
Most important: Many managers are not sure they're equipped to thrive in a workplace with more intelligent machines. As many as 57 percent think their current skills are insufficient.
More troubling, is that lots of managers are unable to accurately identify the skills they will need.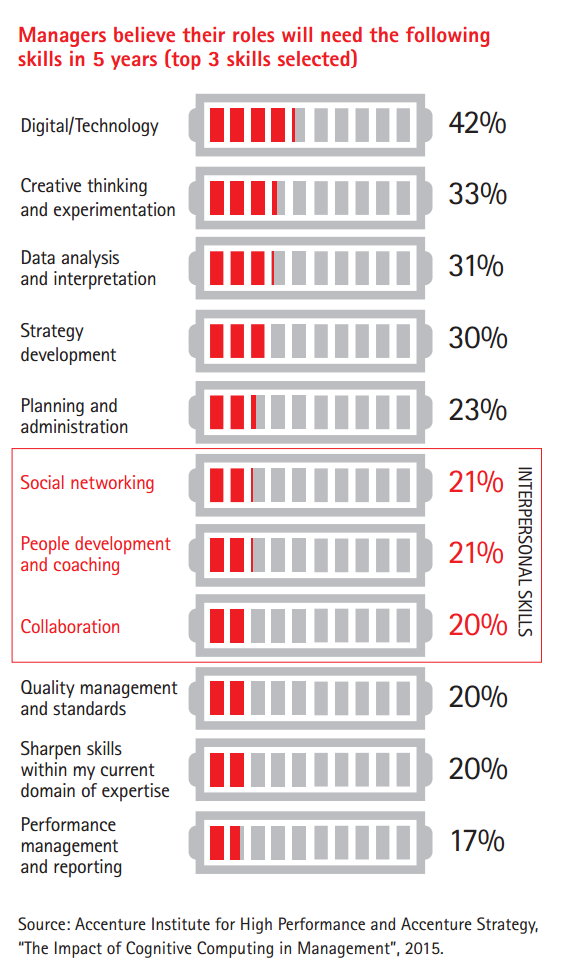 They correctly point to digital skills, creative thinking and strategy development but underestimate the importance of inter-personal skills such as social networking, people development and collaboration.  This discrepancy is likely to be a problem.  Managers will need to know how to interpret and analyze the recommendations provided by intelligent machines. They'll also have to develop, coach and collaborate with other employees to promote experimentation and innovation throughout the organization.
In my next blog post I'll highlight two further obstacles that might hamper business leaders' efforts to boost management performance with intelligent machines. Until then, have a look at these links. They make interesting reading.
Robotic Process Automation: Future Technology in Financial Services
Managers and machines, unite: Intelligent machines are poised to dramatically shift management roles and recast the workforce of the future.