Other parts of this series:
---
In parts one and two of my series, I explained how achieving a culture of nimble innovation and exploring the opportunity of working with external organizations are the keys to success for leading innovators. In this final part, I will explain how embracing new initiatives that go beyond IT provides the final piece of the puzzle.
One of the many roadblocks within the technology organization might be a lack of budget and resources. Not only is there minimal budget to "keep the lights on," but also even less spare investments for innovation.
Extend the funding beyond traditional IT boundaries
Outcome-focused innovation pools funding beyond IT. There are usually many sources of funding outside of the technology organization that could be used—from discretionary funds within the business, to taking advantage of low-cost emerging markets. Technology organizations could accelerate innovation by embracing, rather than stopping initiatives currently being spawned within the business.
But this recommendation comes with a note of caution: it is important to establish the proper controls and governance from a risk, standards, security and compliance perspective to keep these initiatives on track with the overarching technology strategy.
Accenture Strategy research1 shows that many technology organizations are already teaming with other areas of the organization to innovate: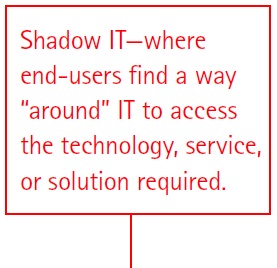 64 percent of senior executives said that IT works jointly with other areas of the organization on innovation.
58 percent report that at least half of all innovation is predominantly sourced via the business rather than IT.
IT organizations could also getting creative by partnering with the business to first prove the commercial feasibility of new concepts in emerging markets. Once the commercial feasibility of a new offering is proven, it is then adapted for developed markets.
To find your way "around" IT to access the technology, service, or solution required:
Pool business and IT funding and resources to boost joint innovation efforts with an integrated and informed governance
Make use of emerging markets to pilot solutions at a lower cost
How can Accenture help?
As I said in my previous posts, the Accenture Innovation Architecture can help you develop your innovation capabilities.
Accenture Innovation Centers provide fresh, hands-on innovation insights, and showcase practical applications based on broad experience and deep specialization. Accenture Innovation Centers can be focused on specific business challenges, industries, functions and technologies. They demonstrate "what we do" and "what is possible" to inspire you to consider new approaches, and are often co-located with our highly focused delivery centers.
Accenture Delivery Centers deliver and optimize innovation at scale. Accenture Delivery Centers and Centers of Excellence have deep, focused concentrations of skills and capabilities, and they create and leverage the most advanced platforms and tools once innovations are ready for broad adoption and optimization.
By adopting outcome-focused innovation, technology leaders can view traditional constraints less as a debilitating challenge, and more as an opportunity for sustainable, profitable business growth. To establish a new frontier of innovation, CIOs could benefit if they:
Adopt an innovation mind-set focused on targeted outcomes
Adapt the IT and business operating model to be open to external ecosystems
Take a holistic approach to funding sources
To learn more, take a look at the A new frontier for technology: Using nimble innovation to drive profitable business growth report.
1. Accenture Strategy Research on the Intersection of Business and Technology, 2015. Accenture Strategy surveyed more than 900 executives around the world on a variety of topics related to business resilience, multi-speed business and IT, technology-led innovation, and the digital agenda.