Almost daily, I see clients working to address increasingly strict Anti-Money Laundering (AML) requirements that are driving up the cost of AML compliance.
Financial institutions are working hard to bring their organizations into compliance. Based on Accenture's experience and industry analysis, we estimate that AML compliance related expenditures have increased by more than 50 percent over the last three years.
And, as financial crime threats and tactics keep evolving, compliance costs are not likely to drop any time soon.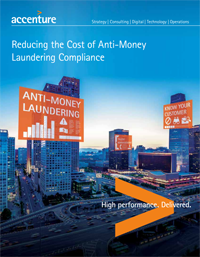 Accenture's paper, Reducing the Cost of Anti-Money Laundering Compliance, explores underlying factors contributing to rising AML costs, and discusses ways to keep those costs in check. We believe the causes—and the solutions—to rising compliance costs evolve around these three factors:
Enhancing Transaction Monitoring (TM) systems
Updating and maintaining Know Your Customer (KYC) information
Retaining AML staff and building AML talent management programs
In this blog space, I'd like to look at each of these factors and dig a little deeper. Based on what I've seen among my clients, knowing the underlying causes for rising AML costs is more than half the battle. My future posts will look at each cause and talk about how financial institutions can get more effective and efficient around each.
Putting it all together, I'm hoping my insights will help build a road map toward a strong, sustainable AML compliance program that can help mitigate risks across the organization. Financial crime will never be a thing of the past. But with the right approach financial services providers can be efficient and cost effective, and build a powerful and sustainable BSA/AML program. See Accenture's paper on this topic for more.
Accenture at ACAMS AML and Financial Crime Annual Conference
Accenture will be participating as a platinum sponsor in the ACAMS 14th Annual AML and Financial Conference in Las Vegas at the end of the month.  Please visit us at our booth in the exhibit hall (booth number 313) where we will have on hand several members of our financial crime team to discuss AML and fighting final crime. You will also be able to get a hard copy of recently published thought pieces on this topic.
I will also be participating in a Tuesday (September 29) afternoon panel session at ACAMS. The panelists and I will explore key learnings from recent enforcement actions and sanctions from around the world. My presentation will touch on:
Office of Foreign Assets Control (OFAC) current focus and goals
Individual liability for violations of sanctions
Key takeaways based on recent enforcement actions
Looking forward to seeing you at ACAMs.