---
More than ever, human resources (HR) organizations need to contend with changing business demands and an evolving workforce. A key driver in these changes is the evolution of technology—both in how digital technology allows HR to reshape its offering to the business and in how it enables the business to take charge of many of its own talent management needs and processes.
Against this backdrop, forward-thinking HR organizations in financial services firms are already starting to recast themselves as a new type of "digital HR" function. They recognize that the model of managing people as a largely segregated operation is rapidly becoming outmoded as talent management becomes integrated into the functions of the business. To maximize their value to the business, HR organizations are setting their own digital agenda rather than entrusting technology strategy to the IT organization.
The opportunity here is two-fold. Firstly, HR can revolutionize the entire employee experience by offering employee-centric processes, apps and services that optimize each employee's performance as well as create personalized value propositions that aid in attracting, engaging and retaining talent. Mobile tools, social media and other technologies make it possible to give employees rich access to HR services, and engage employees on their terms.
As I noted in an earlier post in this series, the HR organization's evolution is similar to how marketing organizations have seized control of their own technology agendas and asserted themselves as key drivers of the enterprise's digital transformation. Thanks to digital interfaces and they data they produce, HR can apply the techniques of individualized, targeted marketing to talent management.
Most banks and insurers have already achieved maximum cost savings by using IT to standardize and harmonize their people practices across their global operations. Now, however, the goal is to tailor employment practices to every worker, avoiding one-size-fits-all approaches or fragmented, one-off efforts that are often not fair or effective.
Secondly, HR can position itself as a strategic and senior partner in the broader digital transformation of the business. As we argue in our Accenture Technology Vision for 2016, people are the key to unleashing the full value of new digital technologies from the Internet of Things to advanced artificial intelligence. HR's role here is helping to recruit the right people for a shift to a digital world and to get the existing workforce ready for tomorrow.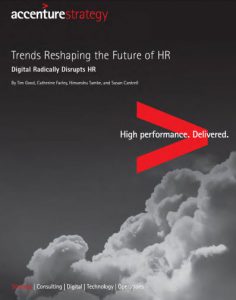 This reimagining of the HR organization is about shifting it away from routine processes and administrative work towards helping the business and workforce to support growth and keep up with changing, and often volatile, business realities. HR organizations thus need to have a solid grasp of the possibilities and limitations of technology, and be active participants in looking for opportunities to leverage it.
Digital technology opens the door for HR to become an even more valuable partner in the business—but only if it is ready to drive its own digitization strategy. If it doesn't, it will be struggle to ensure its ongoing relevance in a digital world and may even run the risk of becoming obsolete.
To learn more, read: Digital Radically Disrupts HR: Digital technology is transforming how people work—demanding a fundamentally different HR strategy