As the North America lead for Accenture's Fraud and Financial Crime practice, I am sometimes asked whether I come from a legal or investigative background.  When I explain that I spent the majority of my career doing finance transformation work, people wonder how and why I got into this realm.
Looking at my personal evolution, and current role, my journey and corresponding "transformation" is somewhat a reflection of the transformation I believe is required of the AML function itself, with the skills and capabilities essential to responding to the challenges we now face.
To give context: In the past the compliance function (and relevant AML activities) were an output of mandatory audit and control functions. The skills needed for this were either audit-based or interpretive in nature.  As new regulations were added and existing ones enhanced, beginning with The Patriot Act of 2001 and continuing with the weekly actions taken today against financial institutions, the roles and responsibilities of the AML function have evolved.
From global program management to operational improvement skills and experiences, the talent requirements have both broadened and deepened. Although the role's original skills remain absolutely essential to help confirm regulations are understood and dealt with, the implementation and ongoing management of AML activities requires a more interactive model, bringing in all elements of the enterprise—from the business to the owners of technology.  Although these areas of the enterprise still own elements of the process and architecture, the knowledge to assess the impacts of recommendations, the ability to quickly prioritize and implement the recommendations and, most importantly, managing the resulting change are increasingly required skills for an operationally efficient and cost effective AML function.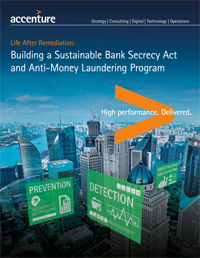 To address this, not only are financial institutions hiring individuals with deep program management and operations skills that complement those with regulatory and investigative backgrounds, but they also are moving strong performers internally, particularly people who may have a strong business or technology background and are star performers that can deliver.
I believe the key is to have an AML function composed of individuals with diverse backgrounds that have:
Content knowledge and capabilities;
Collaborative and connecting behaviors;
Complementary skills; and
An ability to deliver.
The challenge, of course, is to find and retain these individuals. And that is, in itself, a whole other discussion that I hope to take up later within this blog.
Meanwhile, see Accenture's paper, titled Life After Remediation: Building a Sustainable Bank Secrecy Act and Anti-Money Laundering Program.