Other parts of this series:
---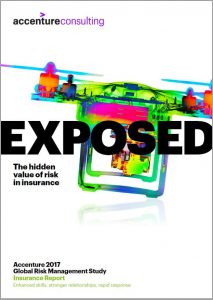 The insurance industry is data centric, collecting, archiving and exploiting huge amounts of data. With so many new digital tools available, insurance risk managers have technology resources at their disposal to make use of all the data. But accessibility of the data in the legacy systems can be challenging, and using these new tools can be confusing.
As you might expect, this is not a new problem. Back in 2009, according to our original Global Risk Management Study, financial services firms wrestled with fragmented technology that was not fit for purpose. Are you surprised, then, that technology was a strategic priority by 2011? Two years later, analytics adoption was on the rise, while systems integration posed a concern. Analytics remained top of mind in 2015, when risk leaders focused on building better analytic capabilities.
Today, a mix of technology issues face insurance risk leaders. Our paper, the 2017 Global Risk Management Study Insurance Report, explores these topics:
Cloud
Use of cloud is fairly well established, with 91 percent of responding insurance risk leaders using it. But using it doesn't mean mastering it. Only about a quarter (26 percent) of those using cloud say they're proficient. More than a third (36 percent) say they aren't using cloud to its full potential, and just under a third (29 percent) are only introducing it. Cloud seems most advantageous when it comes to cost. Seventy-seven percent of insurance risk leaders are using cloud to address cost pressures. This use is particularly powerful, given 88 percent of respondents say cost pressures result in sub-optimal outcomes for the cyber risk function.
Analytics
Still a focus, insurance risk leaders continue improving their grip on data analytics. Sixty-six percent of respondents say risk analytics is fully integrated into their function's everyday operations. Meanwhile, 63 percent report it is integrated with strategic planning and decision making.
Automation
Automation and intelligent machines are on the horizon for insurance risk management. While few teams have fully exploited them (15 percent say they are highly proficient in Robotics Process Automation or "RPA"; 13 percent say the same regarding Artificial Intelligence), interest is on the rise. Nearly a third (32 percent) of survey respondents are using RPA to replace high volume, low-value tasks.
Risk leaders in insurance are in different places along the technology continuum, depending on their existing landscape, on the new technology in question and on their own level of investment.
Next, we'll look at the talent challenges for insurance risk leaders.