However, most firms view the complaints departments purely as a cost burden, a view which is unsustainable in today's competitive environment. A new way of thinking is required to understand the attitudes, wants, needs and behaviours of customers. "Feedback" provides both valuable insight on how to improve products and services and an opportunity to change how customers view the firm for the better.
What is feedback?
Feedback is insight that furthers a bank's understanding of a customer's actual experience. The insight creates an opportunity for firms to develop innovative ideas and programs for improving their operations including the training and development of their staff.
At the heart of any banking transactions and complaints are customers. So who better to help improve the bank and its services than its customers?
How to draw value from feedback:
1.  Forge true partnerships with customers (solicit the right data).
Banks will find there are great benefits in listening to customers by actively requesting and, if necessary, incentivising them to provide feedback on products and services. Key questions to ask customers include:
How could we improve your experience as a customer?
Where, and what were the delays/annoyances that negatively affected your experience?
What would make you recommend our bank to your friends?
Of greater importance will be listening to the answers received and drawing out the detail, in order to effect targeted change. Feedback can be requested through cost-effective digital channels or through engaging proactively with consumer groups. Firms should also consider incentivising staff to actively gather feedback from customer interactions.
2.  Measure in real time (analyse). Customer demand evolves quickly, so firms should apply a powerful analytic solution to analyse feedback data in real time. Platforms should run across business units and geographies to consolidate customer insight from multiple channels into a single view, and to identify how, when and where issues arise. This can help identify trends, root-causes or anomalies, and act as an early warning system for bigger and perhaps systemic problems before they hit "the front page." As articulated by the Financial Ombudsman Service, "A good place to start is learning from earlier cases…" [2]
3.  Action the reaction (action). Insights can be turned into actionable intelligence that can have considerable benefits beyond simply appeasing angry customers. Insights can help banks get ahead of customer issues in real time and possibly prevent "negative" feedback from turning into formal complaints. An essential part of encouraging strong responses to feedback is empowering and motivating staff to flex processes and procedures to make the changes required in response to a situation. A reaction may involve calling compliance to understand what additional types of identification are acceptable when customers do not own passports, or putting controls on an account to support a vulnerable customer.
4.  Measure the value (measure). In the competitive environment, all functions should demonstrate and quantify the value of their work. Taking a customer-centric approach to complaints handling should deliver shareholder value by picking up on problems early and building trusted relationships with customers. By measuring the value of the insight captured, stakeholders within the firm are able to see the benefits of building continued support, and the firm will be able to better understand where to focus future efforts.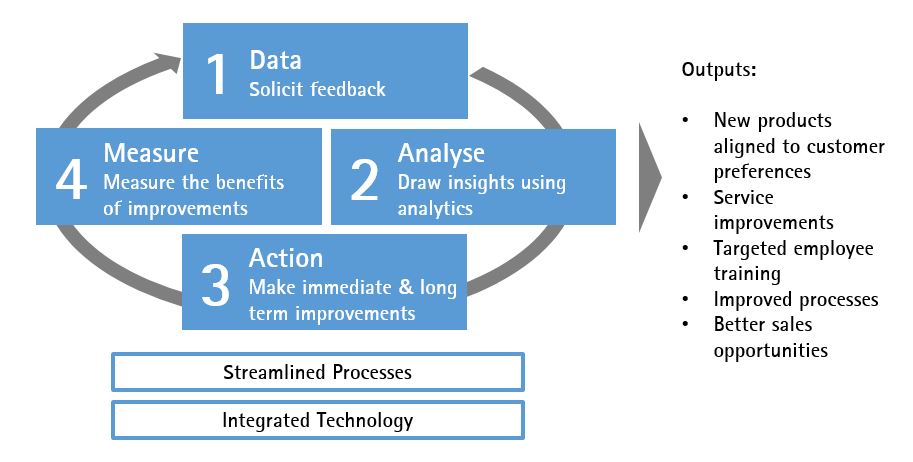 Conclusion
Taking a fresh approach to complaints handling by capturing the right information and insight, applying the right technology and valuing the output should not only facilitate better decisions and improve customer outcomes, but is likely to confer a competitive advantage.
"The Financial Conduct Authority finalises rules on complaints and call charges," Financial Conduct Authority, Press release, July 23, 2015. Access at: https://www.fca.org.uk/news/fca-finalises-rules-on-complaints-and-call-charges
"ombudsman focus: how businesses handle complaints – feedback from our adjudicators," Financial Ombudsman Service, ombudsman news, issue 102, April/May 2012. Access at: http://www.financial-ombudsman.org.uk/publications/ombudsman-news/102/102-ombudsman-focus.html