The switch to digital has had a huge impact in nearly every aspect of modern life, and on working and learning in particular. COVID-19 has accelerated this shift, forcing organisations to rethink how they can strategically build an engaged, enthusiastic and future-ready workforce using solutions that are scalable, delivered at speed and flexible enough to meet employees' needs.
This series of blogs will look into how organisations can reimagine their strategies in upskilling and reskilling their people in this digital age in order to unlock new talent sources and revenue streams. In particular, we will look at the following topics:
How to skill a remote workforce using digital learning;
How organisations can build a future-proofed workforce;
How to transform the employee experience with a human-centric learning strategy.
Old School, New Demands
We're all familiar with traditional classroom-based ways of learning. In the days when employees showed up at a fixed time each day at a central location, that worked well.
But in recent years, business has changed markedly. One survey published well before COVID-19 found 63 percent of U.S. firms had remote workers.1 Indeed, for many employees, remote working is the new norm:
A 2019 study found more than half of office-workers globally typically spend 2.5 days a week or more away from their main office, while three-quarters regard flexible working as the "new normal";2
A 2019 study found the size of the U.S.'s remote workforce – company employees who work principally from home at least half of the time – almost doubled in the decade to 2017, to 4.7 million.3
As employees increasingly turn to remote and flexible working, firms must consider how they can deliver training and learning differently. The COVID-19 pandemic has hastened this. It has forced many companies to adopt remote working and flexible working arrangements, while it has made traditional ways of skilling employees impossible.
What haven't changed are the demands of business continuity: firms must still keep their employees' skills up to date – whether they are new hires or existing staff. The digital world has further increased the pressure on firms to ensure their employees keep pace with market changes.
Learning Without Borders
Providing remote training and learning has become a strategic imperative. The question businesses must ask is how to make boundaryless their often-traditional methods of training. The answer is to focus on three aspects:
Learning must largely be digitally enabled and on-demand;
It must be designed with the employee at heart;
It must use innovative digital solutions that are fun and engaging.
Achieving the first requires a 70-20-10 approach (see chart): 70 percent of learning should be digitally enabled and available on-demand; 20 percent should constitute learning from others – for example, through coaching and mentoring; the remaining 10 percent should comprise formal training.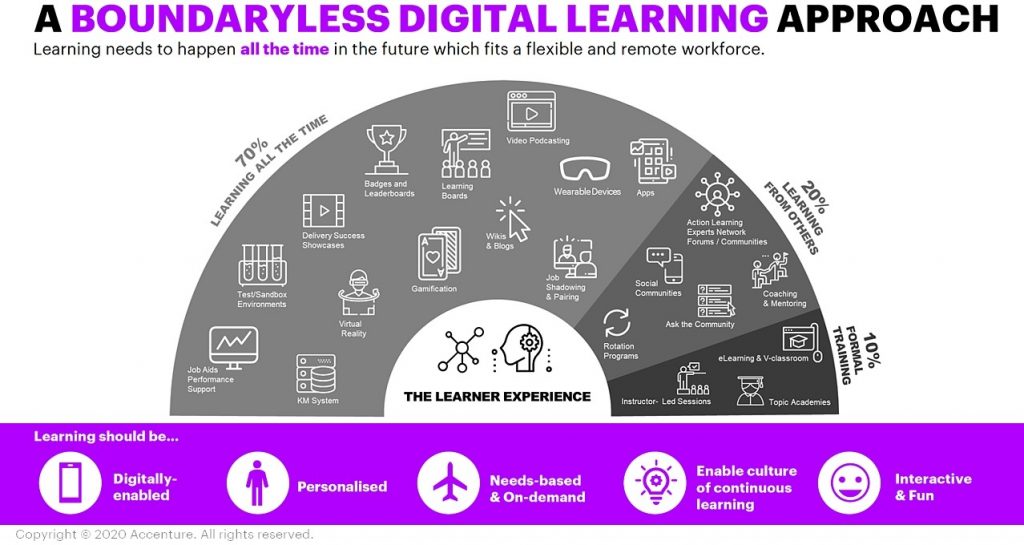 That balance is key: 58 percent of employees would prefer to be able to learn at a pace they're comfortable with, while nearly half would rather learn at their point of need.  That can only be done through solutions that are digital and always-on.
The second point is that programmes must be designed with the employee at heart (see graphic). Why? Because remote learning requires greater self-discipline and motivation. Consequently, the design of each course should put the employee's experience at its centre, and make learning delightful, fun, motivating and engaging.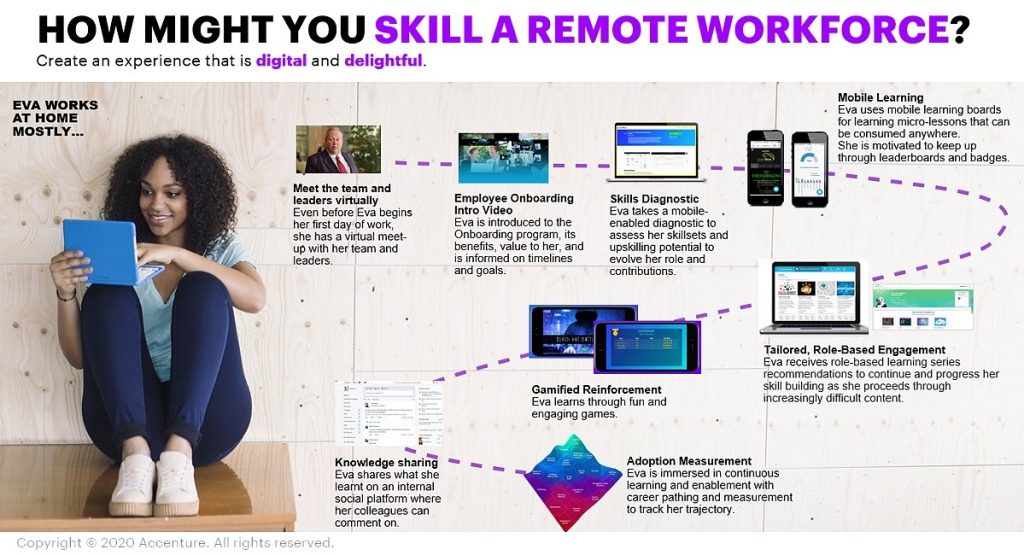 This also requires that firms reimagine their learning programmes in a strategic manner and integrate "learning moments" in a seamless journey. This digital "learning as a journey" approach starts even before the employee's first day at work and continues for all the upskilling and engagement they will need during their employment.
Reimagining training in this way is also far better than trying to move paper-based training online in a piecemeal manner.
The third aspect that works well is to incorporate innovation (see chart).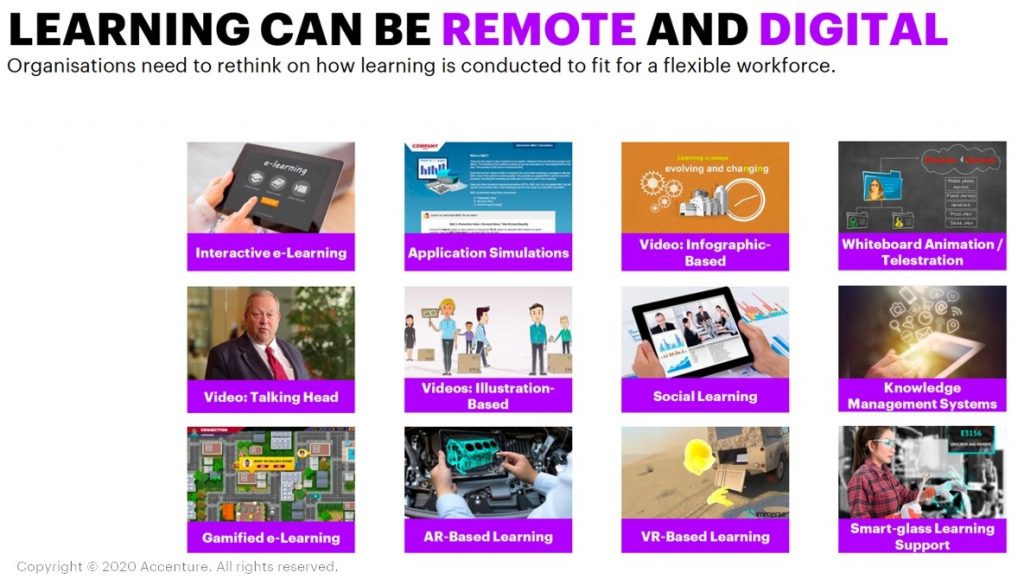 We've found the following attributes ensure that employees get the most out of remote digital-learning offerings:
Bite-sized: they contain chunks of microlearning to maximise knowledge retention;
Experiential: they provide a "hands-on" experience even though they are virtual;
Social: they involve learning in collaboration with peers;
Gamified: they encourage a sense of fun, achievement and friendly competition.
Companies can achieve new ways to deliver in this way by using technologies like virtual reality (VR) and artificial intelligence (AI), as Accenture does when, for example, we train new analysts in presentation and communication skills.
We developed a VR solution that detects an employee's eye gaze and tone of voice as they work through a virtual presentation installed on their mobile phone, and which they view using simple cardboard goggles. It provides a fun, new, digital, innovative and experiential way for them to tackle a learning task and see how they can improve on their score and against their peers.
Looking Ahead
At Accenture, we've worked with firms globally to transform their learning experiences and implement digital-learning solutions. (For more on our work with financial services firms and our Future Talent Platform, see our report The Future of Learning: An Opportunity for Financial Services.)
Typically, firms report speed-to-performance climbs by up to 30 percent; the cost of their training programmes drops as much as 25 percent; and drop-out rates are about 20 percent lower. The good news for other organisations is there are plenty of quick wins they can employ as they move to digital learning. Repositioning in this way is a vital step in future-proofing efforts.
Our next blog will look more closely at the boundaryless digital learning approach, and how organisations can transform digital learning to prepare their workforce in an age of disruption.
References:
1. The IWG Workplace Survey: Welcome to Generation Flex – the employee power shift, IWG (March 2019). See: http://assets.regus.com/pdfs/iwg-workplace-survey/iwg-workplace-survey-2019.pdf
2. The End of the Traditional 9-5? IWG New Study Finds 70 Per Cent of Us Skip the Office to Work Elsewhere, PRNewswire (May 30, 2018). See: https://www.prnewswire.com/news-releases/the-end-of-the-traditional-9-5-iwg-new-study-finds-70-per-cent-of-us-skip-the-office-to-work-elsewhere-684048561.html
3. 159% Increase in Remote Work Since 2005: FlexJobs & Global Workplace Analytics Report, FlexJobs (July 29, 2019). See: https://www.flexjobs.com/blog/post/flexjobs-gwa-report-remote-growth/
4. 2018 Workplace Learning Report, LinkedIn (2018). See: https://learning.linkedin.com/resources/workplace-learning-report-2018