---
As we have discussed in previous blogs, the new Fundamental Review of Trading Book (FRTB) rules published by the Basel Committee on Banking Supervision (BCBS) pose a number of implementation challenges to banks with a significant presence in capital markets.
Banks that have not taken steps toward implementation should do so soon, both to comply with FRTB requirements and to allow for a smooth transition to the new regulatory environment. Banks should be constrained, however, to comply with the new FRTB requirements while reducing the implementation challenges and strengthening their market risk capital requirements. The biggest single problem, we believe, lies in overcoming the data challenges arising from the new rules. Three data issues, in particular, are fundamental to an effective implementation of the FRTB framework:
Risk Sensitivities Sourcing. The rules for standardized approach (SA) and internal models-approach (IMA) advocate both the use of risk sensitivities and consistency in their calculation which, for the first time, should be the same as those used for the pricing models or instrument prices in the profit and loss statement that management receives.1
Market Data Sourcing. Banks need to source pricing information for risk factors to be eligible for inclusion in IMA calculation. These market prices need to be "Real"and from observable transactions.2 The rules specify conditions which need to be fulfilled for risk factors to be considered modelable.3 Due to these restrictions, and to the limited availability of pricing information, market data should be a high hurdle for the banks.
Risk Calculator Data Gaps. Understanding the incremental data requirements versus the existing data calculation models and calculators is crucial, as FRTB has introduced changes to the way risk charge is calculated under both the Standardized Approach (SA) and the Internal Model Approach (IMA).4
Each data issue has multiple ramifications and sub-issues for banks to resolve. In future blogs, we will explore each issue in greater detail.
For more information see SlideShare deck: "Fundamental Review of the Trading Book (FRTB) – Data Challenges"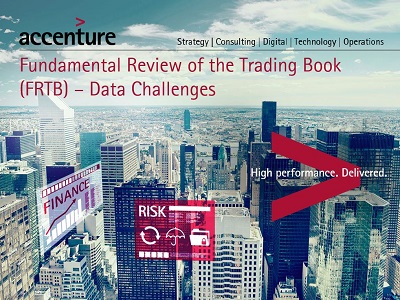 References
"Minimum capital requirements for market risk." Basel Committee on Banking Supervision, January 2016. Access at: http://www.bis.org/bcbs/publ/d352.htm
Real prices – Under risk factor analysis, each of the risk factors need to have 24 observable price points over a year. These observable price points have to be "Real" which is defined as:
It is a price at which the institution has conducted a transaction
It is a verifiable price for an actual transaction between other arms-length parties; or
The price is obtained from a committed quote.
If the price is obtained from a third-party vendor (with some conditions to accepting the vendor data)"Minimum capital requirements for market risk." Basel Committee on Banking Supervision, January 2016. Access at:http://www.bis.org/bcbs/publ/d352.htm
Ibid
Accenture analysis and "Minimum capital requirements for market risk." Basel Committee on Banking Supervision, January 2016. Access at:http://www.bis.org/bcbs/publ/d352.htm
Visit www.accenture.com/RegulatoryCompliance for latest insights on regulatory remediation and compliance transformation.
Disclaimer
This blog is intended for general informational purposes only, does not take into account the reader's specific circumstances, may not reflect the most current developments, and is not intended to provide advice on specific circumstances. Accenture disclaims, to the fullest extent permitted by applicable law, all liability for the accuracy and completeness of the information in this blog and for any acts or omissions made based on such information. Accenture does not provide legal, regulatory, audit or tax advice. Readers are responsible for obtaining such advice from their own legal counsel or other licensed professional.
About Accenture:
Accenture is a leading global professional services company, providing a broad range of services and solutions in strategy, consulting, digital, technology and operations. Combining unmatched experience and specialized skills across more than 40 industries and all business functions—underpinned by the world's largest delivery network—Accenture works at the intersection of business and technology to help clients improve their performance and create sustainable value for their stakeholders. With more than 373,000 people serving clients in more than 120 countries, Accenture drives innovation to improve the way the world works and lives. Its home page is www.accenture.com.
Copyright © 2016 Accenture. All rights reserved.
Accenture, its logo, and High Performance Delivered are trademarks of Accenture. This document is produced by Accenture as general information on the subject. It is not intended to provide advice on your specific circumstances.
If you require advice or further details on any matters referred to, please contact your Accenture representative.