---
In our previous blog, we described the three major data issues facing banks as they plan the implementation of the Fundamental Review of Trading Book (FRTB), the Basel Committee on Banking Supervision (BCBS) rules aimed at strengthening banks' capital positions and reducing their exposure to trading risk.
We shall discuss the first issue "Risk Sensitivities Sourcing" in this blog.
Capital requirements using a revised standardized approach (SA) are now mandatory for all banks and have to be reported for all trading desks and at a firm-wide, consolidated level to enable a like-for-like comparison. Compared to previous standardized models, the SA under FRTB rules makes use of risk sensitivities to capture both linear and non-linear risk in the trading desk.1
Added complexity comes along with the mandatory requirements for calculating risk charge using SA, as banks to calculate Delta, Vega and Curvature sensitivities across all risk classes. The rules specify the maturity buckets for each risk class and sensitivity combination in order to arrive at a final sensitivity value per bucket using netting rules. This should lead to a comprehensive calculation of risk using SA, adding to the computation complexity not required under earlier rules.2
To highlight this complexity, the number of buckets for each sensitivity and risk class combination under a sensitivities-based method for SA appears in Table 1.
Table 1. Number of buckets for sensitivities calculation
Source: "Minimum capital requirements for market risk." Basel Committee on Banking Supervision, January 2016.
A bank now has to compute at least 79 different calculation inputs (excluding GIRR and Foreign Exchange (FX) risk, also assuming that the market portfolio has assets across the buckets) for each sensitivity class for risk computation under SA. For example, the new prescribed risk factors and liquidity computation complexity may lead to as many as 12,000 calculations per trade compared to the current 250 – 500 calculations per trade.3
The SA has introduced the concept of curvature risk to capture nonlinear risk, which is not captured by delta of the instruments with optionality. Curvature risk is not a second order approximation, but rather a full revaluation which is needed for every instrument affected.4 We believe this means that banks should change infrastructure, data availability and (IT) capacity to run the revaluation for all products with optionality.
The new rules specify that the sensitivities should be calculated on the prices of instruments or on pricing models which are used for P&L reporting or market risk management within the bank. This calls for consistency between the calculations used for computing sensitivities and the valuation models being used by the front office for trading purposes.5
In our next blog, we will look at challenges posed by the second of three FRTB-related issues, market data sourcing.
For more information see SlideShare deck: "Fundamental Review of the Trading Book (FRTB) – Data Challenges"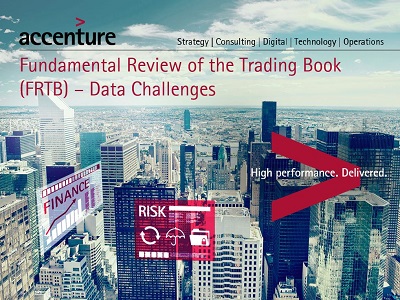 References
"Minimum capital requirements for market risk." Basel Committee on Banking Supervision, January 2016. Access at: http://www.bis.org/bcbs/publ/d352.htm
Ibid
Accenture estimate based upon discussions with clients, May 2016
"Minimum capital requirements for market risk." Basel Committee on Banking Supervision, January 2016. Access at: http://www.bis.org/bcbs/publ/d352.htm
Ibid
Visit www.accenture.com/RegulatoryCompliance for latest insights on regulatory remediation and compliance transformation.
Disclaimer
This blog is intended for general informational purposes only, does not take into account the reader's specific circumstances, may not reflect the most current developments, and is not intended to provide advice on specific circumstances. Accenture disclaims, to the fullest extent permitted by applicable law, all liability for the accuracy and completeness of the information in this blog and for any acts or omissions made based on such information. Accenture does not provide legal, regulatory, audit or tax advice. Readers are responsible for obtaining such advice from their own legal counsel or other licensed professional.
About Accenture:
Accenture is a leading global professional services company, providing a broad range of services and solutions in strategy, consulting, digital, technology and operations. Combining unmatched experience and specialized skills across more than 40 industries and all business functions—underpinned by the world's largest delivery network—Accenture works at the intersection of business and technology to help clients improve their performance and create sustainable value for their stakeholders. With more than 373,000 people serving clients in more than 120 countries, Accenture drives innovation to improve the way the world works and lives. Its home page is www.accenture.com.
Copyright © 2016 Accenture. All rights reserved.
Accenture, its logo, and High Performance Delivered are trademarks of Accenture. This document is produced by Accenture as general information on the subject. It is not intended to provide advice on your specific circumstances.
If you require advice or further details on any matters referred to, please contact your Accenture representative.