---
In our previous blog, we looked at the data challenges related to market data sourcing in relation to Fundamental Review of Trading Book (FRTB) compliance. The third major data challenge is in the area of data gaps in risk calculators.
Some broad data gaps affect risk calculators across risk factors and asset classes. These relate to the mismatch of maturities of existing risk factors and the prescribed maturity classifications prescribed by FRTB regulations. Another gap is related to the mapping of internal ratings to FRTB rules, especially for US institutions, as regulation prohibit the use of external ratings.
The data gaps for calculating capital charge using the Standardized Approach (SA) touch on the following broad themes:
Maturity Mismatch.

The FRTB rules framework defines the risk factors and vertices in a way designed to calculate sensitivities. These risk factors and vertices have maturities which may differ from the existing risk computation systems within banks.
Data Sourcing Gaps.

The existing risk infrastructure at banks does not source and/or obtain all the data required for calculation of capital charge under SA, as specified in the FRTB rules. Data sourcing challenges exist in the decomposition of equity baskets and/or indices, in underlying products decomposition, in sourcing equity rating data for default risk charge computation, and in managing internal ratings for both credit and equity issuers.
Assumptions.

Due to existing data challenges in the risk process models of the banks, many assumptions have to be made by the risk management teams, which may lead to inaccurate calculations for capital charge under SA. Specifically, banks may need to make assumptions in doing linear extrapolation of their calculation of risk sensitivities, where underlying data is not available to them.
Data Taxonomy.

Because of differences in front office and risk management systems, there is a challenge in classifying the different products as per the FRTB rules to maintain consistency in calculation and a uniform interpretation of the asset classes across the bank. Mapping instruments to the relevant asset classes can therefore become a major challenge for the banks.
In the next blog in this series, we will look at some of the challenges related to risk calculator gaps for banks taking the Internal Model Approach (IMA) rather than the Standardized Approach (SA).
For more information see SlideShare deck: "Fundamental Review of the Trading Book (FRTB) – Data Challenges"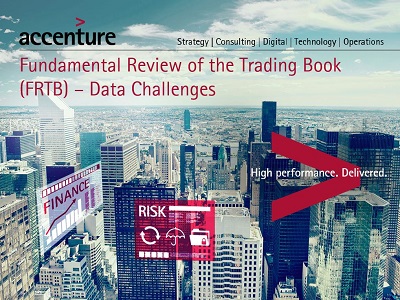 Visit www.accenture.com/RegulatoryCompliance for latest insights on regulatory remediation and compliance transformation.
Disclaimer
This blog is intended for general informational purposes only, does not take into account the reader's specific circumstances, may not reflect the most current developments, and is not intended to provide advice on specific circumstances. Accenture disclaims, to the fullest extent permitted by applicable law, all liability for the accuracy and completeness of the information in this blog and for any acts or omissions made based on such information. Accenture does not provide legal, regulatory, audit or tax advice. Readers are responsible for obtaining such advice from their own legal counsel or other licensed professional.
About Accenture:
Accenture is a leading global professional services company, providing a broad range of services and solutions in strategy, consulting, digital, technology and operations. Combining unmatched experience and specialized skills across more than 40 industries and all business functions—underpinned by the world's largest delivery network—Accenture works at the intersection of business and technology to help clients improve their performance and create sustainable value for their stakeholders. With more than 373,000 people serving clients in more than 120 countries, Accenture drives innovation to improve the way the world works and lives. Its home page is www.accenture.com.
Copyright © 2016 Accenture. All rights reserved.
Accenture, its logo, and High Performance Delivered are trademarks of Accenture. This document is produced by Accenture as general information on the subject. It is not intended to provide advice on your specific circumstances.
If you require advice or further details on any matters referred to, please contact your Accenture representative.