---
In January 2016, the Basel Committee on Banking Supervision (BCBS) published final rules for the market risk framework for capital requirements. The BCBS proposed the end of 2019 as a compliance deadline for banks with a significant presence in capital markets.1
The new rules – known as Fundamental Review of the Trading Book or FRTB – are designed to address recognized weaknesses of Basel 2.5 as they relate to issues such as the under-capitalization of the trading book, capital arbitrage between banking and trading books, and internal risk transfers. BCBS is seeking, for example, to establish a more objective boundary between the trading book and the banking book to reduce incentives for arbitrage between the regulatory banking and trading books.2 Similarly, the FRTB encompasses a revised internal model approach characterized by a shift from Value-at-Risk (VAR) to the Expected Shortfall (ES) measure of risk, for a better reflection of "tail risk" and capital adequacy during periods of significant financial market stress.3
Accenture believes that adoption of the FRTB rules presents banks with significant challenges in areas such as business operations and infrastructure provisioning, among them:
Banks can expect significant increases (as much as 40 percent) in market risk capital requirements;
They should also anticipate higher costs for rules implementation programs – ranging from $100 million to $250 million for large banks;
We expect major increases in business as usual (BAU) costs due to desk level requirements; and
Additional investment in technology infrastructure for risk calculation.
FRTB rules (see Figure 1) require banks to strengthen their existing market risk infrastructure and overall technology capabilities, with additional computational capacity to support calculations as required under new capital requirements. Banks should also plan for additional complexity in operations and processes due to changed desk structures and undertake the standardization of data sources to support these changes.
Figure 1. Expected FRTB Timeline
Source: Minimum capital requirements for market risk, BCBS, January 2016. Access at: http://www.bis.org/bcbs/publ/d352.pdf, and Accenture estimates.

The BCBS recommended deadline of December 31, 2019 may not seem imminent, but the journey to compliance is not easy. Banks should begin to address their FRTB implementation strategy immediately and plan for implementation issues going forward. In this series of blogs, we will look at major FRTB requirements and what banks should be doing to meet these compliance goals.
For more information see SlideShare deck: "Fundamental Review of the Trading Book (FRTB) – Data Challenges"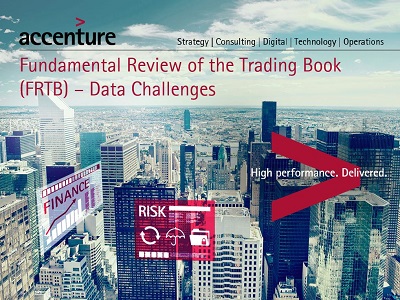 References
"Minimum Capital Requirements for Market Risk," Basel Committee on Banking Supervision, January 2016. Access at: http://www.bis.org/bcbs/publ/d352.htm
Ibid
Ibid
Visit www.accenture.com/RegulatoryCompliance for latest insights on regulatory remediation and compliance transformation.
Disclaimer
This blog is intended for general informational purposes only, does not take into account the reader's specific circumstances, may not reflect the most current developments, and is not intended to provide advice on specific circumstances. Accenture disclaims, to the fullest extent permitted by applicable law, all liability for the accuracy and completeness of the information in this blog and for any acts or omissions made based on such information. Accenture does not provide legal, regulatory, audit or tax advice. Readers are responsible for obtaining such advice from their own legal counsel or other licensed professional.
About Accenture:
Accenture is a leading global professional services company, providing a broad range of services and solutions in strategy, consulting, digital, technology and operations. Combining unmatched experience and specialized skills across more than 40 industries and all business functions—underpinned by the world's largest delivery network—Accenture works at the intersection of business and technology to help clients improve their performance and create sustainable value for their stakeholders. With more than 373,000 people serving clients in more than 120 countries, Accenture drives innovation to improve the way the world works and lives. Its home page is www.accenture.com.
Copyright © 2016 Accenture. All rights reserved.
Accenture, its logo, and High Performance Delivered are trademarks of Accenture. This document is produced by Accenture as general information on the subject. It is not intended to provide advice on your specific circumstances.
If you require advice or further details on any matters referred to, please contact your Accenture representative.