---
In previous blogs, we have examined the data challenges related to data gaps in risk calculators, including those that can appear when using the Standardized Approach (SA) and the Internal Model Approach (IMA). No matter which approach is taken, an effective Fundamental Review of Trading Book (FRTB) program needs sound data sourcing, calculation and management strategy to address these challenges.
Some of the major steps that banks should take include:
Identify a consistent set of sensitivities. Banks should have a methodological approach for categorizing sensitivities or risk exposure for individual risk classes. Calculation methodologies should be consistent across different areas of the bank. Ideally, sensitivities are calculated only once—using a "golden source" calculator—and then used by different teams throughout the bank as needed. The definition of sensitivities across the front office and risk management team should be the same, which can be achieved by having a common taxonomy for both teams.
Define a centralized architecture for sourcing and data. There should be a central repository for all risk sensitivities within banks, receiving data from different golden sources and storing it by risk class, category, tenor and risk factor, respectively. This will entail identification of golden sources of sensitivities calculation across risk classes, as well as the creation of standards for sensitivity data sourcing. Among other considerations, data quality standards for managing high-quality risk sensitivities data for internal and external audit approvals should be established.
Manage IMA risk factors and liquidity horizons. Dimensions of analysis here include taxonomy—such as individuation of criteria and indicators for distinguishing between modelable and non-modelable risk factors—and data sourcing, such as participating in data pooling initiatives within the industry, or subscribing to third-party vendors for obtaining real prices. Another data sourcing consideration is the identification of data providers and establishment of vendor relationships to obtain real pricing information. Computations should be structured to facilitate including or excluding the trading desk considered eligible (or ineligible) for the Internal Model.
In the next blog, we will look at additional steps such as planning for profit and loss attribution and managing SA risk sensitivities, all designed to support flexible, agile FRTB implementation.
For more information see SlideShare deck: "Fundamental Review of the Trading Book (FRTB) – Data Challenges"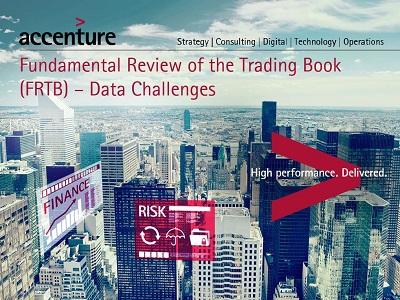 Visit www.accenture.com/RegulatoryCompliance for latest insights on regulatory remediation and compliance transformation.
Disclaimer
This blog is intended for general informational purposes only, does not take into account the reader's specific circumstances, may not reflect the most current developments, and is not intended to provide advice on specific circumstances. Accenture disclaims, to the fullest extent permitted by applicable law, all liability for the accuracy and completeness of the information in this blog and for any acts or omissions made based on such information. Accenture does not provide legal, regulatory, audit or tax advice. Readers are responsible for obtaining such advice from their own legal counsel or other licensed professional.
About Accenture:
Accenture is a leading global professional services company, providing a broad range of services and solutions in strategy, consulting, digital, technology and operations. Combining unmatched experience and specialized skills across more than 40 industries and all business functions—underpinned by the world's largest delivery network—Accenture works at the intersection of business and technology to help clients improve their performance and create sustainable value for their stakeholders. With more than 373,000 people serving clients in more than 120 countries, Accenture drives innovation to improve the way the world works and lives. Its home page is www.accenture.com.
Copyright © 2016 Accenture. All rights reserved.
Accenture, its logo, and High Performance Delivered are trademarks of Accenture. This document is produced by Accenture as general information on the subject. It is not intended to provide advice on your specific circumstances.
If you require advice or further details on any matters referred to, please contact your Accenture representative.