Financial crime is a growing global problem.  As a result, banks are facing greater compliance risks and increased regulatory scrutiny, leading to higher costs and additional investments to address this challenge.  In the United States and Europe alone, since 2009 fines totaling $342 billion have been imposed on banks, including Anti-Money-Laundering (AML) violations,1 this despite billions spent annually to prevent money laundering and comply with AML regulations.2
Talent is a key element in managing Financial Crime Risk Management; however, just adding more people won't solve the problem. To balance efficiency and effectiveness, Banks should leverage the latest available technologies.
As seen in the illustration below, here are some of the new technologies which are re-shaping the way banks respond to financial crime: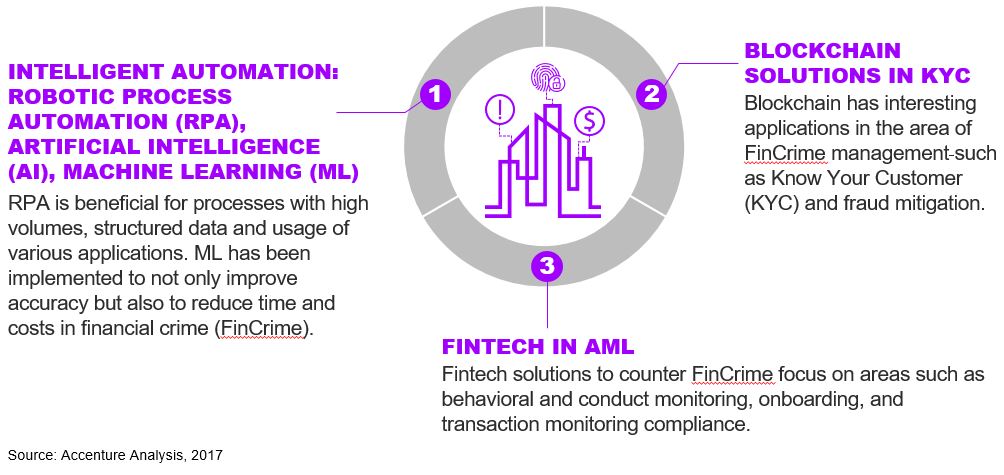 Robotic Process Automation (RPA) has been used to improve the overall efficiency and quality of Financial Crime Risk Management, delivering a 24/7 resilient operation.  RPA "bots" can be used to validate customer records and expedite approvals, or to document business relationships such as commencement dates or customer ID data.  Banks using RPA can experience reduced handling times and simpler, shorter processes.
Other banks are already exploring Machine Learning (ML) in Financial Crime Risk Management. For instance, ML has been used in Transaction Monitoring to reduce false positives, while in Sanctions Screening, ML has been used to escalate human actions when alerts are triggered.
Blockchain can redefine the way banks conduct Know Your Customer (KYC) processes. The technology can make the KYC process extremely efficient. For instance, customer KYC records can be entered into a blockchain, which can be accessed by other banks. Once that is done, a bank can just access the blockchain and access the latest KYC details. The use of blockchain in Financial Crime Risk Management is already a reality in Asia Pacific.
Financial Crime Risk Management has also been a hot topic in the (financial technology) Fintech space; Fintech companies have brought a great deal of innovation to Financial Crime Risk Management. Some companies are focusing on the use of external data sources, such as news feeds and social media, among others, in conjunction with client internal and transactional data, leveraging Artificial Intelligence (AI) technology with greater accuracy in AML.
The AML landscape is complex and new areas of vulnerability may not be covered by current technologies. Consequently, banks should keep exploring new technologies to keep pace. Data is key to this and more and more data is available, so exploring analytical solutions to optimize outputs and to reduce volumes produced by technologies currently in place is mandatory.
For more details on the use of RPA and Machine Learning in AML, see https://www.accenture.com/au-en/insight-anti-money-laundering-evolving-journey.
References
"U.S., EU fines on banks' misconduct to top $400 billion by 2020: report," Reuters, September 2017. Access at: https://www.reuters.com/article/us-banks-regulator-fines/u-s-eu-fines-on-banks-misconduct-to-top-400-billion-by-2020-report-idUSKCN1C210B.
"2020 Foresight: The Impact of AML Regulations on Wealth Management," WealthInsight, July 2013. Access at: http://www.prweb.com/releases/2013/8/prweb11019737.htm.