---
In our previous blog, we discussed the need for a comprehensive Target Operating Model to serve as a framework for Internal Model Method (IMM) compliance programs. Another important element in an effective program is a solid regulatory communications strategy. Contact with regulators is essential to address open questions and to help manage overall expectations in advance of regulatory exams.
The regulatory strategy should reach all pertinent regulators and all key themes, providing the appropriate level of detail in response to inquiries. All communications with the regulators should be documented to maintain an audit trail that can be recalled as needed, and the bank should determine the type and level of documentation required to meet regulators' expectations.
Communications should be standardized, with a review process to vet all documents before they are sent and discussed. Each session with the regulators typically covers one specific focus area―such as simulation models―so those responsible for that area should be prepared with anticipated questions and topics for review.
A dedicated function should manage regulatory requirements, examination dates and deadlines. Program leads should define who will communicate what information to the regulators, and at what frequency, and these leads should be trained in how to structure conversations and stay on message. It is also important to understand what has previously been communicated to regulators and to expand upon this baseline of information in further discussions.
As this series has shown, banks should demonstrate a transparent, controlled and comprehensive technology platform when seeking regulatory approval. For more information, see SlideShare deck: "Considerations for an Effective Internal Model Method Implementation"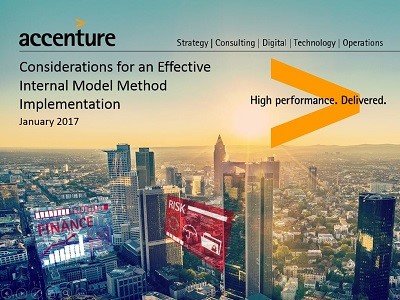 Visit www.accenture.com/RegulatoryCompliance for latest insights on regulatory remediation and compliance transformation.
Disclaimer
This blog is intended for general informational purposes only, does not take into account the reader's specific circumstances, may not reflect the most current developments, and is not intended to provide advice on specific circumstances. Accenture disclaims, to the fullest extent permitted by applicable law, all liability for the accuracy and completeness of the information in this blog and for any acts or omissions made based on such information. Accenture does not provide legal, regulatory, audit or tax advice. Readers are responsible for obtaining such advice from their own legal counsel or other licensed professional.
About Accenture:
Accenture is a leading global professional services company, providing a broad range of services and solutions in strategy, consulting, digital, technology and operations. Combining unmatched experience and specialized skills across more than 40 industries and all business functions—underpinned by the world's largest delivery network—Accenture works at the intersection of business and technology to help clients improve their performance and create sustainable value for their stakeholders. With more than 373,000 people serving clients in more than 120 countries, Accenture drives innovation to improve the way the world works and lives. Its home page is www.accenture.com.
Copyright © 2017 Accenture. All rights reserved.
Accenture, its logo, and High Performance Delivered are trademarks of Accenture. This document is produced by Accenture as general information on the subject. It is not intended to provide advice on your specific circumstances.