Other parts of this series:
---
In my last post, I discussed how, by designing technology with customers and employees in mind, companies can help people reach their goals. I also argued that, by responding to human behavior, companies are shifting from provider to partner. In this post, I will take a closer look at the opportunities more human technology has to offer.
Businesses do well when people do well
As I said in my last post, 80 percent of the executives we queried for our Technology Vision 2017 survey agree that organizations need to understand not only where people are today, but also where they want to be—and shape technology to act as their guide to realize desired outcomes.1
31% of surveyed executives report that they plan to use human behavior extensively to guide the development of new customer experiences and relationships in the next three years.2
By creating partnerships with the people using their products, services, or technologies, enterprises have a new opportunity to create long-term loyalty with lasting value in both the marketplace and the workplace.
The more companies understand why customers are buying their products, or employees are using workplace tools in a certain way, the more these elements can be molded to help people on a journey to achieve their personal goals.
The more customers trust a business, the more likely they are to provide more data and use more products and services.
Strengthening relationships with customers and employees demands fundamental shifts in the ways leaders think about their business. As companies move to develop new journeys for customers and employees, they can slowly take on a fundamental role in people's lives and, in the process, transform themselves to allow for long-term growth.
The new goal for the company is to help DEFINE A PATH that people can follow to reach their goals.
In addition to changing the focus of relationships, the cadence should also shift. Focusing on long-term relationships over short-term gains offers more opportunities in the future. In return, a business can gain direct insight into the ways people seek out value through their products and services.
Building strong, long-lasting customer relationships matters more than you might think.
Customers who feel emotionally connected to businesses:
Buy more products.
Use more services.
Provide vocal support.
Pay more attention to company communications and advice.
Furthermore, research indicates that:
Fully (emotionally) connected customers are 52 percent more valuable, on average, than customers who are highly satisfied, but not emotionally connected.3
Only 25 percent of traditional retail customers felt their individual needs were being catered to on a regular basis.4
As you can see, the gap between potential and captured value is tremendous, but companies have a chance to close it.
Helping employees reach their goals
As far as the workforce is concerned, a "partnership type" relationship is about addressing employees' goals. One such goal could be discovering business insights without having to use complicated technical solutions. Businesses can respond by aligning technology tools to make task completion more natural.
More journey-centered technology can also help employees reach larger career and life aspirations. Using technology that guides employees toward their goals, adapted to areas of strength and weakness to enhance useful learning, presents greater opportunities for increased job satisfaction. This translates into value through reduced turnover, since replacing an employee can cost a business more than 20 percent of that individual's salary.5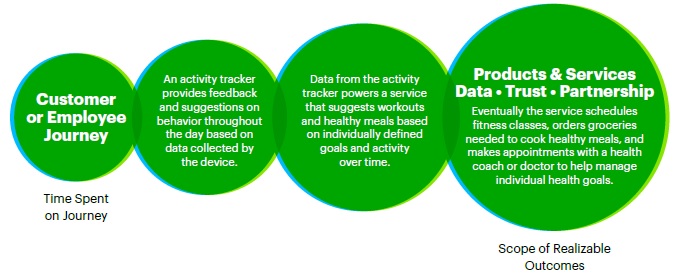 In my next post, I will offer some conclusions and recommendations.
In the meantime, take a look at the full Technology Vision 2017 report and our Trend 4: Design for Humans page.
References: