---
New technology in robotics and analytics is helping financial services companies cut costs in the contact center. The first post in this series looks at how contact centers are evolving, as does our presentation. However, minimizing costs is only part of the equation when it comes to driving revenue: Companies also should focus on maximizing the customer experience to achieve the best results.
What does this mean? Companies need to learn when to leverage the power of digital and analytics, and when to employ the power of the human touch. The Contact Center of the Future can effectively and strategically blend these components to create a seamless experience that meets the needs of all customer segments. When it comes to large financial decisions, or moments of truth in a customer's financial life, a human touch is essential to build trust and develop lasting relationships that can benefit the company—and the customers—in the long term.
To achieve the right balance between automation and human interaction, the tools leveraged should vary by customer segment and transaction type. Economically valuable customers bring a blend of complex and streamlined transaction needs. Customers providing less value must be handled efficiently for business purposes, remembering that those customers may offer untapped value in the future. Ultimately, customer interactions can be categorized into four segments:
Excellent: Outcome-focused interactions aligned to segments are best served by a blend of human, physical and digital channels, since high-value interactions benefit the company as well as its customers. Sharing data across channels is fundamental to finding and achieving desired customer journeys.
Efficient: High-quality interface and interactions driven by digital will best align with customer expectations, particularly for interactions that are high-value for customers but low-value to the company. This is the largest opportunity for utilizing digital and robotics to minimize cost while delivering desired experience.
Exact: Quick and easy interactions that are low-value to customers but high-value to the company provide an opportunity for leveraging robotics to deliver precision and consistency. This commoditized treatment is acceptable to customers, assuming the process is quick, easy and accurate.
Eliminate: Repeatable, automated processes are best suited to interactions that are low-value to the company and its customers. This is the lowest opportunity to leverage the human touch as a future state channel; instead, robotics are a low-cost, accurate option.
While contact center interactions may not be part of the physical world in the same way that branch interactions often are, the Contact Center of the Future still fits into the "Phygital" narrative by seamlessly blending digital automation with a selective human touch for the highest value customer interactions.
View our presentation to learn more about the Contact Center of the Future: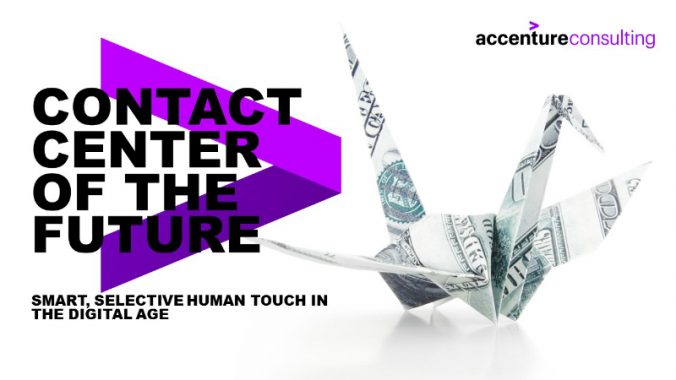 Next up, I'll post about how a future-based contact center operates. Stay tuned!