Other parts of this series:
---
In the first part of this series, we discussed the key findings of our latest Financial Services (FS) Change Survey 2017. According to our survey, FS firms are increasing their investment in change overall, but change leaders (10 percent of our sample) are achieving better results than their peers.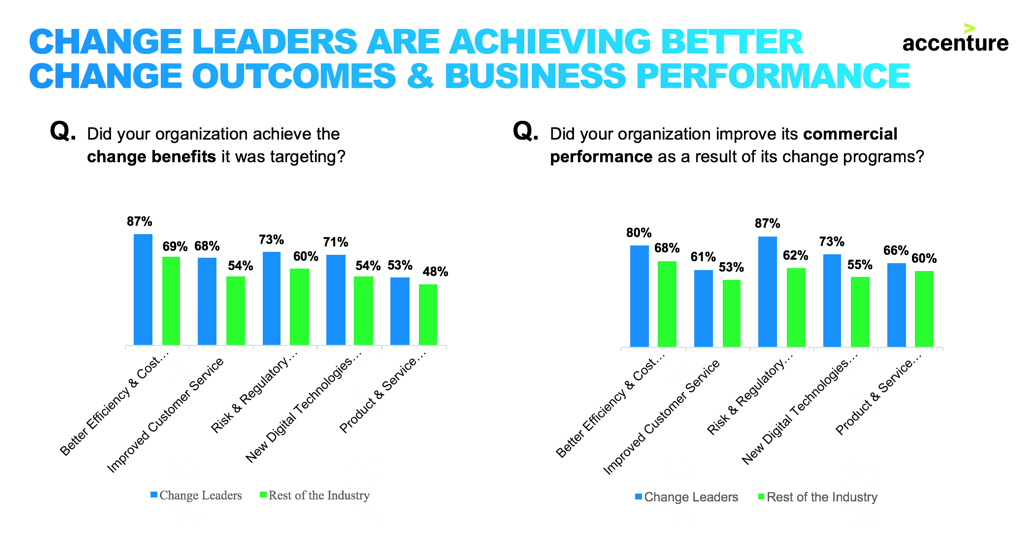 What makes them so much better at managing change? Our survey found change leaders share several key attributes. Let's take a closer look at the first two of the three attributes that give them their competitive edge.
Clear digital strategy and strong leadership and vision
The FS firms that are getting a better return on their change investment have a well-defined, cross-enterprise digital strategy and a clear vision of the changes that are needed to execute their strategy. Both the strategy and vision are reviewed continually and amended frequently.
Change leaders are more likely (87 percent vs. 62 percent) to have a long-term strategy, and centralized change teams (82 percent vs. 56 percent). They are investing more in new types of change across all aspects of digital, and they are innovating more in a more coherent way.
Change leaders say they have a good understanding of the required change portfolio, while only two thirds of their peers can say the same. They also demonstrate significantly stronger change leadership at all levels. Our Change Tracking study consistently shows that change leadership at all levels has the highest correlation to business performance during periods of transformation.
Focus on the workforce
These FS leaders know that people are the key to unlocking the full potential of change and have created a flexible, responsive culture that is capable of adopting and sustaining transformation. It is also essential for agility and innovation, without which competitiveness is hard to maintain.
Ninety-two percent of change leaders are sensitive to employee engagement as an internal driver of change (vs. 69 percent of peers). They invest more in transformation of the workplace (43 percent vs. 23 percent), and are growing these investments to improve the employee experience, enhance human-machine collaboration and raise performance.
People can either be one of the greater barriers to change or a formidable catalyst to drive it forward. Eighty percent of change leaders' employees are optimistic, or engaged and motivated about change (vs. 65 percent for peers). These high-performing groups can handle more change and achieve better results – 83 percent of change leaders say their organization thrives on fast-paced change (vs. 51 percent for peers).
Coming up next, I'll share with you the most important elements of change leaders' superior change execution capability.
To learn more, read the full Banking or Insurance report: Financial Services Change Survey 2017