---
Performance management is becoming even more important to organizations across all major industries. To succeed in the digital economy, these organizations need to be highly flexible and agile. They must quickly align their workforces with fast-changing business strategies and objectives. Performance management, can play its part if implemented correctly, giving them the ability to manage and redirect key skills and competencies.
Our research shows that almost all business leaders, around 94 percent, recognize the value of performance management. However, the majority of them believe their current performance management methods are inadequate. They're considered out of date in a business environment that is more dynamic and uncertain than ever before. Of the 1,050 business leaders we surveyed around the world, only 34 percent think their performance management approaches effectively support their organizations' business objectives. This is a serious shortfall.
It's not only business leaders who are dissatisfied. We canvassed the same number of employees. An overwhelming 89 percent of them believe they would work better if their organizations' performance management changed. It's clear: performance management is just not performing.  A different approach is needed.
Just look at the illustration below. See how business leaders and the employees lack confidence in current performance management approaches.  Especially worrying is the apparent inability of these approaches to encourage and galvanize skills vital for success in the digital economy. Collaboration, adapting to change, and creativity all fare poorly under current performance management practices.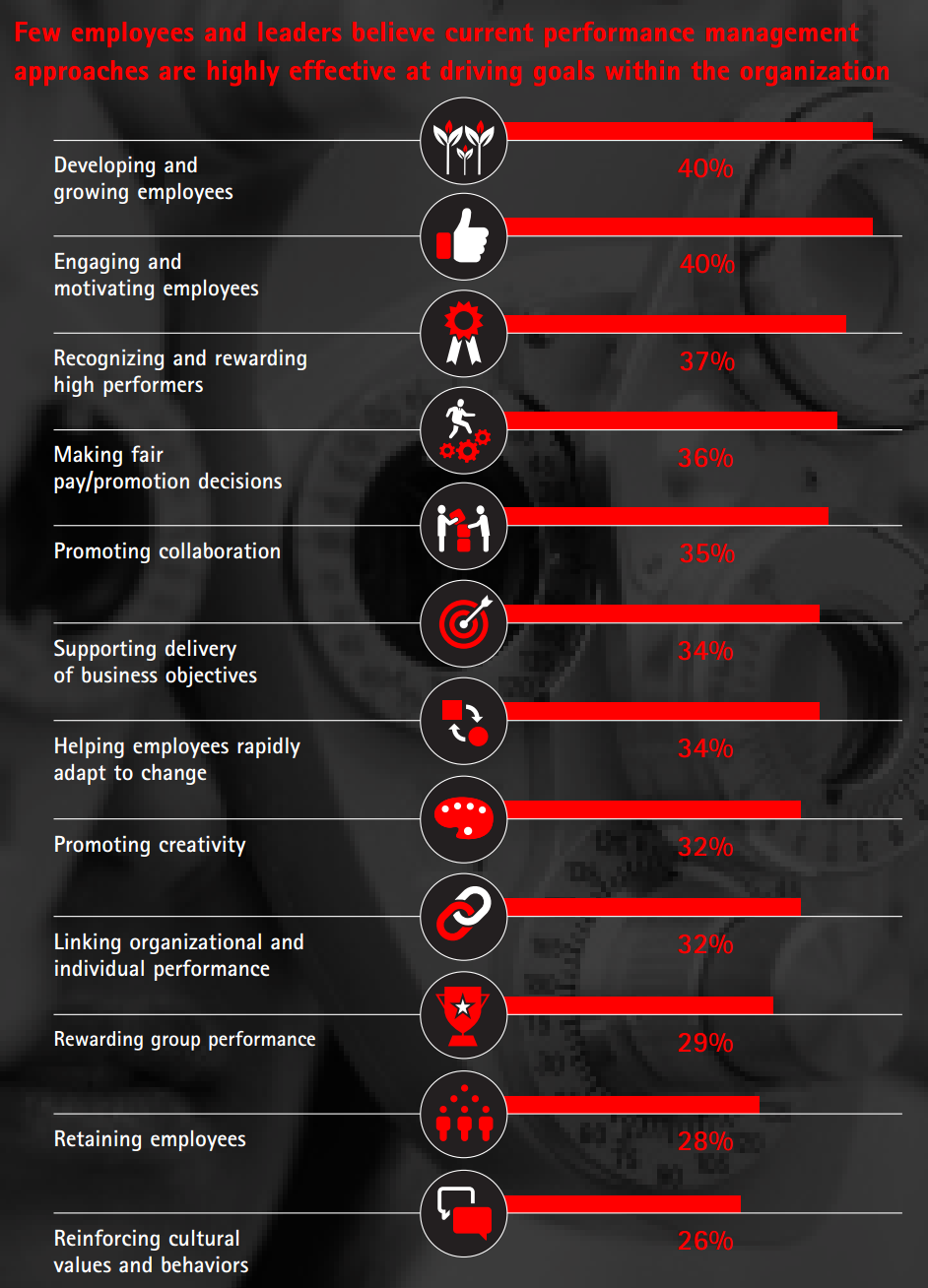 So what needs to change? How can organizations improve their performance management so that it boosts the performance of both the workforce and the business?
The first step is to better understand the shifting needs and preferences of the workforce. Only then can organizations devise effective measures to attract, develop, motivate and retain high-performing workers.
In my next blog post, I'll discuss how digital technology is changing workforce expectations.  Until then, take a look at this link. I'm sure you'll find it worthwhile.
Is Performance Management Performing? Revitalize performance management to better support business objectives and the workforce of the future.