---
We previously reviewed the importance of clear, effective progress metrics for a successful IMM transformation process.  The next key consideration in the process is the implementation of a robust control framework, one that can provide evidence for the lineage of data and the quality of inputs used within the IMM model.
The IMM process requires multiple data inputs, such as market data, trade data, counterparty and reference data, and collateral information; all which will come from different sources and leveraged throughout the bank by various functions.  Regulators need to see that data inputs are high quality, comprehensive and consistent with inputs into other related models and reported figures.  This means that, wherever possible, the IMM model should take data directly from "golden sources" subject to robust data governance practices.  If this is not possible, reconciliations should be performed for consistency of data used within the IMM model.
To confirm data integrity, controls should certify data inputs as "fit for use" prior to processing and confirm outputs as "effectively modeled."  Controls should also be accompanied by appropriate break management tools and well-documented remediation governance processes.
In addition, if any data is adjusted prior to official month-end reporting, the adjustments should be done in a controlled manner and executed as far upstream in the data chain as possible.  These month-end IMM runs should include all adjustments to allow alignment with official reporting and bank ledgers.  Finally, it is essential that processes for adjusting, and the timing and location of adjusted data, be well understood within the IMM target state solution.  Clearly documented data and system architectures can provide transparency into the reconciliation, controls and adjustments that take place within the IMM process chain.
In the next blog in this series, we will look at how banks can seek efficiencies within regulatory and business initiatives as part of the IMM solution design.
For more information, see SlideShare deck: "Considerations for an Effective Internal Model Method Implementation"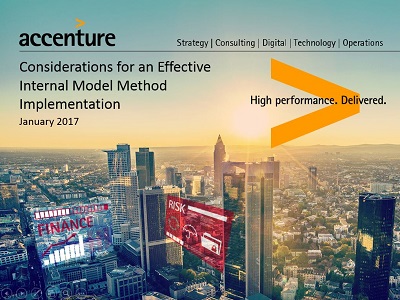 Visit www.accenture.com/RegulatoryCompliance for latest insights on regulatory remediation and compliance transformation.
Disclaimer
This blog is intended for general informational purposes only, does not take into account the reader's specific circumstances, may not reflect the most current developments, and is not intended to provide advice on specific circumstances. Accenture disclaims, to the fullest extent permitted by applicable law, all liability for the accuracy and completeness of the information in this blog and for any acts or omissions made based on such information. Accenture does not provide legal, regulatory, audit or tax advice. Readers are responsible for obtaining such advice from their own legal counsel or other licensed professional.
About Accenture:
Accenture is a leading global professional services company, providing a broad range of services and solutions in strategy, consulting, digital, technology and operations. Combining unmatched experience and specialized skills across more than 40 industries and all business functions—underpinned by the world's largest delivery network—Accenture works at the intersection of business and technology to help clients improve their performance and create sustainable value for their stakeholders. With more than 373,000 people serving clients in more than 120 countries, Accenture drives innovation to improve the way the world works and lives. Its home page is www.accenture.com.
Copyright © 2016 Accenture. All rights reserved.
Accenture, its logo, and High Performance Delivered are trademarks of Accenture. This document is produced by Accenture as general information on the subject. It is not intended to provide advice on your specific circumstances.
If you require advice or further details on any matters referred to, please contact your Accenture representative.