---
Banks embarking on a regulatory-driven transformation program―involving a great deal of change to systems, processes and procedures―should demonstrate a clear linkage between the regulatory requirements and how the bank will deliver on those requirements. A comprehensive operating framework outlining the areas and/or capabilities involved in the Internal Model Method (IMM) process can help the bank show that it has a sound IMM infrastructure.
In this context, the purpose of a Target Operating Model is to allow a bank to be operational in a business as usual (BAU) mode while satisfying IMM requirements. The framework aligns the regulatory requirements to bank-defined performance criteria and thresholds, also allowing the bank to demonstrate compliance both to regulators and to its internal audit function. The Target Operating Model outlines what is currently being done while describing changes to processes, systems, policies and procedures.
Communication can be critical for achieving buy-in for the Target Operating Model. The model's guiding principles should be explained to all work streams to articulate how the model relates to each of them. A matrix outlining people, process, technology, models and data can help illustrate the framework's purpose and how it can be put into practice. And, in order to address the concept of data quality across trade, reference and market data, the model should include a data lineage component stressing data completeness and accuracy. Evidence of control points should be collected within a central repository for audit traceability, and a technical architecture diagram should be developed to provide a visual representation of the target platform.
Given the key role that bank subject matter specialists (SMSs) play in defining the Target Operating Model, all SMS capabilities should be mapped, with those who will serve as a direct contact and those who are responsible for signing off clearly designated. This facilitates the collection of performance criteria and metrics. The Target Operating Model should be reviewed on a semi-annual basis to confirm that it is still relevant.
In the final blog in this series, we will look at the elements of a regulatory communications strategy supporting an IMM compliance program.
For more information, see SlideShare deck: "Considerations for an Effective Internal Model Method Implementation"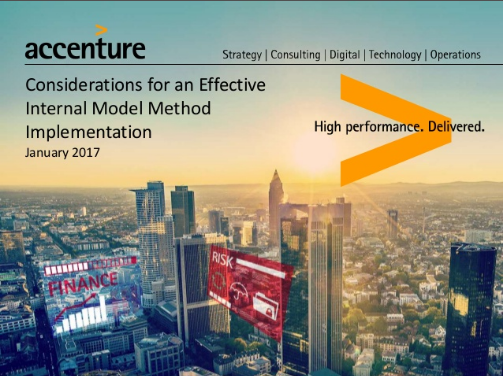 Visit www.accenture.com/RegulatoryCompliance for latest insights on regulatory remediation and compliance transformation.
Disclaimer
This blog is intended for general informational purposes only, does not take into account the reader's specific circumstances, may not reflect the most current developments, and is not intended to provide advice on specific circumstances. Accenture disclaims, to the fullest extent permitted by applicable law, all liability for the accuracy and completeness of the information in this blog and for any acts or omissions made based on such information. Accenture does not provide legal, regulatory, audit or tax advice. Readers are responsible for obtaining such advice from their own legal counsel or other licensed professional.
About Accenture:
Accenture is a leading global professional services company, providing a broad range of services and solutions in strategy, consulting, digital, technology and operations. Combining unmatched experience and specialized skills across more than 40 industries and all business functions—underpinned by the world's largest delivery network—Accenture works at the intersection of business and technology to help clients improve their performance and create sustainable value for their stakeholders. With more than 373,000 people serving clients in more than 120 countries, Accenture drives innovation to improve the way the world works and lives. Its home page is www.accenture.com.
Copyright © 2017 Accenture. All rights reserved.
Accenture, its logo, and High Performance Delivered are trademarks of Accenture. This document is produced by Accenture as general information on the subject. It is not intended to provide advice on your specific circumstances.