A financial services industry initiative is underway to help shorten US securities settlement cycles for equities, corporate bonds, municipal bonds, and unit investment trusts from T+3 (settlement date) to T+2 by end of 3rd Quarter of 2017. The initiative is being led by the Securities Industry and Financial Markets Association (SIFMA), the Depository Trust & Clearing Corporation (DTCC), and other industry groups.1
Industry leaders are working on T+2 now, in advance of the Securities and Exchange Commission (SEC) and Self-Regulatory Organization (SRO) rule amendments. Here we review SEC and Industry viewpoints. We also provide our perspective on mitigating T+2 operational and financial risks, and identify some T+2 activities to consider implementing now.
The SEC's View
In a letter to SIFMA dated September 16, 2015, SEC Chair Mary Jo White indicates support for T+2 efforts. The letter echoes anticipated benefits of the initiative, as found in a 2012 white paper commissioned by the DTCC. Chair White encourages timely industry response, sets a date for SRO rulemaking timelines (October 31), but stops short of setting a timeline for amendments to SEC's T+2 rule 16c6-1(a).2
Excerpts from Chair's letter include:3
"… shortening the settlement cycle should yield important benefits, including reduced counterparty risk, decreased clearing capital requirements, reduced pro-cyclical margin and liquidity demands, and increased global harmonization".
"…it is in my view incumbent upon all segments of the securities industry, including, where needed, the regulatory community, to work together expeditiously on this important matter."
"…I have directed the Commission staff to work closely with the SROs to develop detailed schedules to consider the necessary rule amendments. I have requested that the SROs finalize these schedules by October 3I, 20I5."
"…Commission staff to develop a proposal to amend SEC Rule I5c6-I (a)."
"I emphasize that while this initiative complements the work of the securities industry and the SROs, it should not be seen as a precondition or an impediment to the execution of the plan…"
Insights from Industry Leaders
At the September 17, 2015 SIFMA conference on T+2, speakers and panelists representing SIFMA, DTCC, the SEC, as well as sell side, buy side, and retail brokerage firms discussed change initiatives to meet the Q3 2017 timeline. Some key points discussed include:4
The US is behind European markets in migrating to T+2, with the EU initiative completed last year.
It has been 20 years since settlements for publicly traded securities moved from T+5 to T+3. Some panelists were active in the industry during that transition, and remarked on the need to review long standing processes and technology. Concerns discussed included:

Fails: delivering securities or funds by settlement date (considered fundamental)
Stock loan/borrow: for example – time to recall securities on loan
Liquidity: manage cash forecasting/loans from internal treasury and manage collateral
Multi-listed securities and cross border – settlement and FX implications
Municipal bonds – secondary insurance
Trade reporting timing standardization: for example – to custodians
FX transaction timing
Time zone differences
Some panelists and attendees indicated that their firms are forming T+2 governance, and are planning and budgeting for T+2 preparation.
DTCC cautioned that their Application Programming Interfaces (APIs) will change, and that rigorous testing will be scheduled prior to go-live in 2017.5
One panelist at the SIFMA T+2 conference commented on the need for consistent response across the industry, even in the absence of rulemaking.
Mitigating T+2 Migration Risk – Revisiting "Business as Usual" through the Lens of Today's Markets
Not being ready for T+2 could reduce a risk operation's ability to respond quickly or lead to failure in times of extreme trade volume, or cause a possible chain reaction  "freezing" cash and securities movements that could potentially damage business and reputation.
Trading, operations, regulatory, legal and compliance leadership across the industry may not yet have the mandate to mobilize change initiatives for T+2. Some operations leaders we have spoken to see T+2 as a minor exercise. However, it has been two decades since settlement cycles shortened from T+5 to T+3.
Some financial firms should revisit their operations technology and policies in addition to their procedures to assess if they are adequate to effectively manage liquidity (cash and securities) to settle T+2 for daily activity and for extreme trading volumes as experienced in recent flash crashes and financial crises (as shown in the figure, below).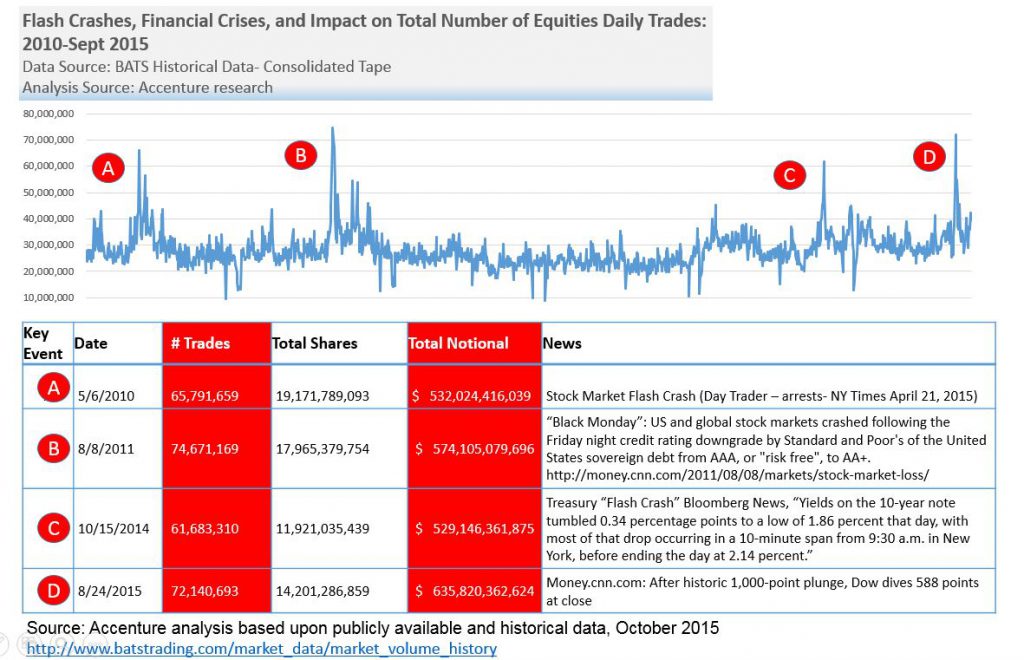 Call to Action – Addressing T+2 Impacts
Noted below are some possible challenges facing financial services institutions and that deserve attention and consideration:
Launch T+2 governance forums: internal and industry facing
Identify all current T+3-related policies and procedures, and gaps for T+2
Assess technology gaps to support T+2 settlement
Create business/technology capabilities roadmap (timelines, plan resources, operating model) for T+2 impacts

Legal entity (BHC, IHC)
Legal, compliance, surveillance, regulatory reporting
Transactions processing facing internal business units as well as DTCC and Fed
Payments
Special attention to liquidity management, cross-border trading and securities finance
References
[1] "4 Things to Know About Shortening the U.S. Settlement Cycle," DTCC Connection, July 14, 2015. Access at: http://www.dtcc.com/news/2015/july/14/4-things-to-know-about-shortening-the-us-settlement-cycle
[2] Chair White's letter to SIFMA, September 16, 2015. Access at: https://www.sec.gov/divisions/marketreg/chair-white-letter-to-sifma-ici-t2.pdf
[3] Ibid
[4] SIFMA T+2 Symposium, The Road to a Shortened Settlement Cycle, September 17, 2015. Notes were used as a reference for this document
[5] DTCC's Application Programming Interfaces support data communications with the DTCC
[6] Historical Market data (input to Chart): http://www.batstrading.com/market_data/market_volume_history
Newsletter Author: Nancy Turbé

Newsletter Contact Person: Craig Unterseher
Disclaimer
This blog is intended for general informational purposes only, does not take into account the reader's specific circumstances, may not reflect the most current developments, and is not intended to provide advice on specific circumstances. Accenture disclaims, to the fullest extent permitted by applicable law, all liability for the accuracy and completeness of the information in this blog and for any acts or omissions made based on such information. Accenture does not provide legal, regulatory, audit or tax advice. Readers are responsible for obtaining such advice from their own legal counsel or other licensed professional.
 About Accenture:
Accenture is a leading global professional services company, providing a broad range of services and solutions in strategy, consulting, digital, technology and operations. Combining unmatched experience and specialized skills across more than 40 industries and all business functions—underpinned by the world's largest delivery network—Accenture works at the intersection of business and technology to help clients improve their performance and create sustainable value for their stakeholders. With more than 358,000 people serving clients in more than 120 countries, Accenture drives innovation to improve the way the world works and lives.
Copyright © 2015 Accenture. All rights reserved.
Accenture, its logo, and High Performance Delivered are trademarks of Accenture.
This document is produced by Accenture as general information on the subject. It is not intended to provide advice on your specific circumstances.
If you require advice or further details on any matters referred to, please contact your Accenture representative.