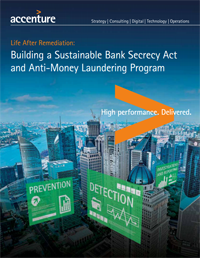 Some of our newest thinking on Anti-Money Laundering (AML) and Bank Secrecy Act (BSA) legislation poses the question: What next?
We survived a rough several years getting pushed out of our comfort zone, stepping away from "business as usual" to address AML and BSA legislation and manage risks connected to financial crime. But now those remediation efforts are winding down. Banks and financial institutions are encouraged to develop a stable, ongoing approach to meet regulatory requirements and fight financial crime and bank fraud.
Our paper on this topic, Life After Remediation: Building a Sustainable Bank Secrecy Act and Anti-Money Laundering Program, cites six elements banks and other financial institutions should consider if they want to build a sound BSA/AML program:
a risk-based approach
an efficient operating model
internal controls
governance and change management
independent testing and audit
training
In my next few blog posts I'd like to discuss how banks and financial institutions can enhance their crime fighting job.
Managed services is one area we'll look at. When regulatory requirements were quickly introduced over a short period of time, most financial institutions were leery of off-shoring or any outsourcing of AML-related functions and corresponding activities. However, given escalating cost pressures, institutions now are considering how best to look for opportunities in this area. I'll talk about how centralizing functions and building centers of excellence can be a more cost effective and efficient approach to fighting financial crime.
We'll also look at how the typical compliance function is pushing well past its legal and audit roots. Given the changes in AML operating models, without good operation knowledge and without strong financial skills, a legal-based compliance professional won't bring the value needed to respond to an evolving environment. The role has increased significantly—and that's a good thing.
I'll also be covering many other angles of financial crime and fraud prevention in the weeks and months to come. I look forward to connecting with you to share some crime fighting ideas. And if you're attending the ACAMS 14th Annual AML and Financial Conference in Las Vegas this month, look up Accenture's booth, and get a hard copy of our paper.