We have previously discussed the importance of talent and a proven methodology in fighting insurance fraud.  Another key element is the use of fraud indicators to help assess how the organization is performing in fighting fraud.
These indicators measure the qualitative and quantitative results of anti-fraud measures, while calculating savings and the return on investment versus the original business case.
Accenture has established a set of key indicator elements that can help monitor and measure program performance, including quantitative fraud indicators (measured per line of business or office location) such as:
Fraud detection rate (%): number of suspicious files divided by the overall number of claim files. This helps measure the company's suspicious files detection rate.
Proven fraud rate (%): number of proven fraudulent files divided by the number of suspicious files. This measures the effective rate of fraud and provides indication on the investigation quality of the company and/or the quality of the suspicious detected files.
Amount of savings generated by each investigator: total amount of savings divided by the number of investigators. This measures the quality of the investigation team.
In addition to these quantitative indicators, processing time in days—the average processing time between the detection date of a suspicious case and the date of closing—is a useful qualitative indicator that measures how well the insurer complies with the processing time defined for each product.
Key fraud indicators should be reported on a monthly basis, for each product, line of business, office location site and channel of distribution. Appropriate action plans should be implemented when metrics are not in line with the forecast.
As seen in the figure below, Accenture works with insurers to help them strengthen their claims investigation processes. Accenture can also operate these functions for insurers by setting up a dedicated workforce to handle such processes efficiently and effectively.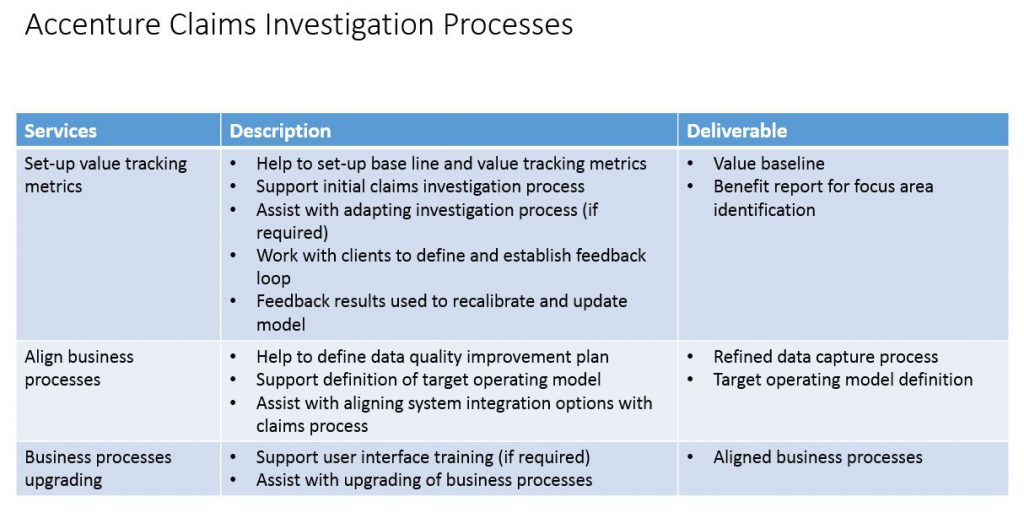 For more information, view our latest perspectives on Fraud and Financial crime.
Other parts of this series:
Part 1: Reducing Fraud Losses Represents a Profitable Opportunity for Insurers
Part 2: Organizing for Effectiveness in Fighting Insurance Fraud
Part 3: Fighting Insurance Fraud: Establishing a Solid Framework
Part 4: Fighting Insurance Fraud: Adopting a Proven Methodology