Other parts of this series:
---
We all know that digital is transforming the banking business; against this backdrop, banks need to gain a better understanding of how digital transformation will impact on their salesforce. To gain some insight, Accenture and Efma recently conducted a series of think tank webinars with senior executives whose organizations are members of Efma.
Over these series of blog posts, I'd like to look at what the sessions revealed about the role of people in a world disrupted by digital innovation as well as how human resources and sales functions should respond. The bottom line is that people matter as much ever, but the operating methods in the banking industry must change to support the demands of a new breed of employee and customer.
With consumers relying more on digital channels rather than branches and fiercer competition from digital-only and non-traditional players, banks are at a crossroads. They must decide whether to disinvest from their salesforce and focus on their digital channels, or empower their salesforce with digital.
Though the need for customers to go into a branch to buy a run-of-the-mill banking product is declining, their reliance on people for advice will continue. Thus, the banking salesforce can be a strong player in the so-called "my life" market by helping customers manage their wealth over time to achieve long-term goals such as home ownership and retirement security.
Our models and research indicate that 34 percent of customers would be willing to pay for basic advisory services and 19 percent for premium services. But to take advantage of this opportunity, banks need a salesforce made up of professionals focused on—and qualified for—helping customers manage their wealth and long-term goals by interacting with digital tools.
As trusted financial consultants, the bank's salespeople will be charged with delivering strategic advisory services, communicating the intricacies of complex financial products, and identifying the solutions that best match the needs of each customer. Moreover, they will offer a new kind of customer experience that brings together the best attributes of personal interaction and online banking.
To achieve the transition to this kind of experience, banks need to fundamentally review their salesforce talent strategy. They also need to overcome the severe shortage of appropriate skills. Our research indicates that many banks appreciate the challenge they face and are rethinking their human resources approach accordingly.
An Accenture survey of 450 financial services executives in 15 countries found that the top two attributes required of banking employees are proficiency with digital technologies (40 percent) and an ability to quickly learn new work requirements (39 percent).
Yet any banks have not yet defined the new skill sets they will need, leading one to think the skills gap will be even greater than the research indicates. The banking salesforce of the future will move beyond product and sales mastery, and develop newfound digital and social capabilities. My next post will look in more detail at how banks should empower, educate and engage their people to succeed in their new role.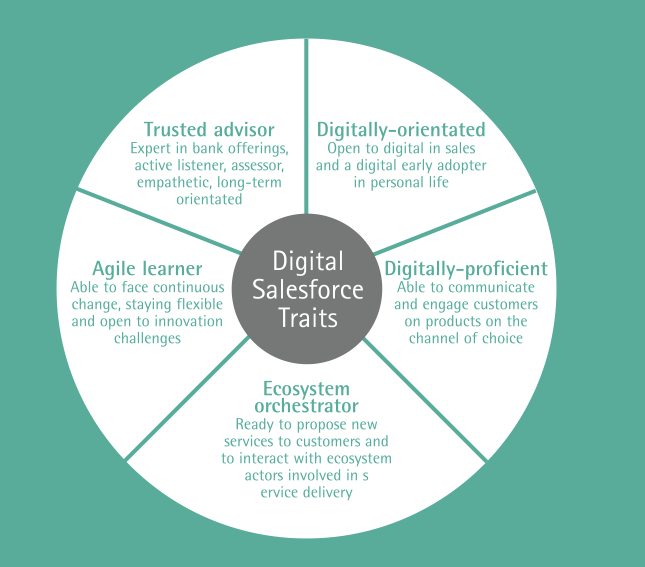 Learn more here: The banking salesforce: Now what?