Other parts of this series:
---
We've been keeping a closer eye on risk management and the role it plays in the insurance space since the 2008 financial upheaval. Accenture's 2017 Risk Management study has watched the risk function grow in prominence—while also changing dramatically.
Accenture's first Global Risk Management Study, conducted in 2009, found insurers managing crises. But within two short years, the function was maturing, and by 2013 it was becoming more disciplined, integrating with other functions in the business. Our 2015 study found insurance risk leaders collaborating with business leaders, playing an increasing role in strategic and business planning decisions.
So, what distance have we covered since then?
In the 2017 Global Risk Management Study, insurers find themselves facing significant change. This year's survey of 190 insurance industry executives from the life, property and casualty and reinsurance sectors uncovered these 10 current challenges: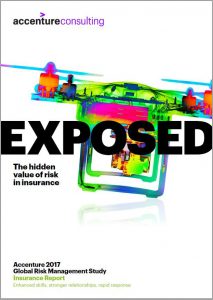 More data, of more variety, is swirling through insurance businesses faster than ever.
Multiple regulators from multiple organizations are increasing their demands.
A focus on control and compliance competes with the need to deliver strong customer service.
Skills are scarce, particularly in new and emerging technologies.
The question of legacy technology within the risk function lingers.
Budget for new investment is scarce.
New digital technology is disrupting business models.
Senior management—and the board—are making more demands than ever.
Core risk management talent and skills are in short supply.
Integration across existing technologies and across business functions is lacking.
Risk leaders in insurance have a lot on their plates. For many, it is tempting to sit back and wait. With all this change, why not see how these trends and changes shake out?
It's a good question. But to speak in risk management terms, the risk of waiting things out is likely bigger than the risk of taking action, even when the course of action is not certain. Why? Some of the challenges insurers face might also be opportunities. Our 2017 Global Risk Management Study Insurance Report notes the dual nature of cyber risk for insurers. It's a threat, but it also represents a billion dollar market opportunity for insurers.
In the blogs that follow, I'll look at the top three issues identified in our 2017 study, and consider how insurers can uncover the positives, and solve the challenges. More to come.