Other parts of this series:
---
Millennials are the largest generation to-date, out pacing baby boomers. They are the customers and employees of the future. Their unique characteristics, wants, and needs will influence both the market place and the work environment. In short, they are a powerful force.
In my final post of the Three Generations in the Workforce blog series, I described Millennial characteristics and foreshadowed the challenges businesses will face in attracting and retaining this generation. In this series on employing a new generation, I'll share insights and suggestions on how the financial services industry can make sure these young people view financial services as a viable career path and the financial services workplace as an inviting environment to work in.
The deep divide between Millennials and financial services
As Millennials enter the workforce in increasing numbers, firms must ask themselves, "Are we prepared to attract, retain, and develop these young people in a way that helps our business thrive and meets their long term needs as employees?" This is an especially important question for the financial services industry, as the unique characteristics of the Millennial generation are often in stark contrast to the image, style, and culture of traditional financial institutions.
For example, Millennials highly prize honesty and integrity, but have grown up witnessing a serious lack of integrity on the part of a number of financial firms. This experience has led to a general distrust of financial services among the Millennial generation, even though many of them are proving to be committed investors—as I shared in my blog series on Generation D. Also, Millennials have little use for hierarchy, tradition, and an authoritative posture. Financial services have long projected the image of three-piece suits, rigid corporate culture, and an inability to embrace change—including the whole hearted migration to the digital world, where Millennials live. While this image is changing, it may not be changing fast enough.
The financial services sector, and the insurance industry in particular, is increasingly finding itself challenged to recruit capable employees who can be groomed to fill leadership positions in the future. Financial services firms will need to deepen their understanding of this new generation and then tailor their recruiting efforts to meet Millennials' workplace and career goals if they want to be successful well into the future. These firms will also need to accept that while they may not be getting an employee for life, they still have the opportunity to take advantage of valuable talent.
The key questions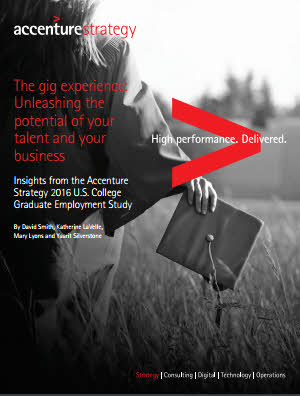 In March of 2016, for the fourth time Accenture surveyed United States college seniors and recent graduates with the intent of identifying key factors that can help businesses do a better job at capturing and keeping Millennial employees. All businesses, and financial services firms in particular, should pay close attention to the insights this study offers.
For example, the financial services industry should be very concerned that only 7% of 2016 graduates-to-be and 6% of recent graduates are interested in working in banking and capital markets. Additionally, over the past few years, the percentage of Millennials interested in working within a corporate environment has dropped from 20% to 14%. Clearly the industry will need to make some adjustments if it wants to attract and retain this new generation of employees.
In my next post, I'll explore the Accenture survey results in more detail. In the meantime, think about the following questions:
Is your firm, as it stands today, a likely career choice for Millennial employees?
If not, are you ready and willing to make substantive changes to attract Millennials?
What is the risk if you don't?
To learn more about employing Millennials, please see: