Other parts of this series:
---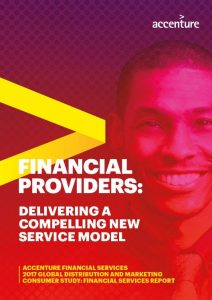 Consumer behaviors and expectations are shifting in ways that will challenge financial services providers to rethink how they serve their customers—and even transform their distribution models. The Accenture Financial Services Global Distribution & Marketing Consumer Study gathered the views of financial services consumers— including banking, insurance and investment advisory customers—across 18 markets.
The research identified valuable insights about how customers want to interact with financial providers in the future, and where digital innovation must play its part. The research also suggests, however, that providers who can both deliver a compelling new digital service model, and retain traditional values around trust and service, will be best placed for the competitive battleground ahead.
In the next blog in this series, we will look at five key trends pinpointed by the study.
About the Research
The nearly 33,000 study respondents were consumers of banking, insurance and investment advice services; they were required to have a bank account and an insurance policy and were asked if they used an independent financial advisor, wealth manager or asset manager (investment advisory responses totaled 9,987.) Respondents covered multiple generations and income levels. The fieldwork for the survey was conducted during May and June, 2016.