---
With capital requirements and capital reserves increasing due to growing regulatory demands, many financial institutions are considering a move to the Internal Model Method (IMM).  In Accenture's experience, we have seen that IMM provides a more risk-sensitive way of measuring banks' capital requirements for various counterparty credit risk (CCR) scenarios, thus helping banks leverage institution-specific scenarios and data that is customized to each bank's trading activity.
Given the complexity of IMM, we believe that banks choosing this approach should obtain regulatory approval first.  Obtaining such approval requires banks to put in place a rigorous change, governance and management program for achieving IMM, with significant transformation of bank processes and policies, as well as pricing models and technology throughout the organization.  Essential to such a program is a capable risk analytics engine and reporting solution; as the program should demonstrate to regulators that the appropriate governance is in place.
During the journey to IMM compliance, Accenture has observed that regulators require documentation of and transparency into the progress of the solution design and implementation. To meet this standard, banks should develop a well-documented, standardized, and appropriately monitored program that reflects strong executive sponsorship and predictability.
To help banks understand the elements of an effective IMM implementation, Accenture's Finance & Risk practice has identified seven key considerations for developing, managing, and monitoring a robust and effective IMM program.  In this blog series, we will be taking a detailed look at IMM implementation methodology and describe the major steps on the journey to regulatory approval.
For more information, see SlideShare deck: "Considerations for an Effective Internal Model Method Implementation"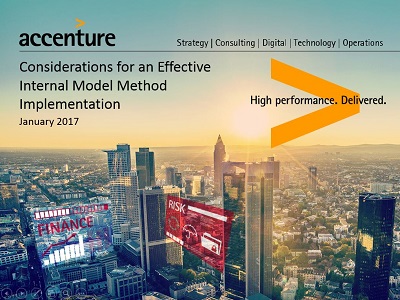 Visit www.accenture.com/RegulatoryCompliance for latest insights on regulatory remediation and compliance transformation.
Disclaimer
This blog is intended for general informational purposes only, does not take into account the reader's specific circumstances, may not reflect the most current developments, and is not intended to provide advice on specific circumstances. Accenture disclaims, to the fullest extent permitted by applicable law, all liability for the accuracy and completeness of the information in this blog and for any acts or omissions made based on such information. Accenture does not provide legal, regulatory, audit or tax advice. Readers are responsible for obtaining such advice from their own legal counsel or other licensed professional.
About Accenture:
Accenture is a leading global professional services company, providing a broad range of services and solutions in strategy, consulting, digital, technology and operations. Combining unmatched experience and specialized skills across more than 40 industries and all business functions—underpinned by the world's largest delivery network—Accenture works at the intersection of business and technology to help clients improve their performance and create sustainable value for their stakeholders. With more than 373,000 people serving clients in more than 120 countries, Accenture drives innovation to improve the way the world works and lives. Its home page is www.accenture.com.
Copyright © 2016 Accenture. All rights reserved.
Accenture, its logo, and High Performance Delivered are trademarks of Accenture. This document is produced by Accenture as general information on the subject. It is not intended to provide advice on your specific circumstances.
If you require advice or further details on any matters referred to, please contact your Accenture representative.