Other parts of this series:
---
Intelligent automation (IA) is poised to transform the world of business, from individual jobs to entire industries. Late last year, the Harvard Business Review argued that IA will be the biggest disruptive force in global business since the advent of the Internet.
At Accenture, we define IA as a constellation of technologies that let machines sense, understand, learn, and act—either independently or with human assistance. IA is a new workforce that carries out repetitive tasks with great speed and accuracy. Combined with other tech advances in cloud computing, storage and analytics, IA is well on its way to fundamentally transforming how we work and live.
The financial services (FS) industry will not escape this change. The 2017 Accenture Technology Vision study found that 76 percent of FS executives predict that in the next three years most of the industry will deploy IA interfaces as their main way of interacting with customers.
But IA's impact will extend well beyond user interfaces.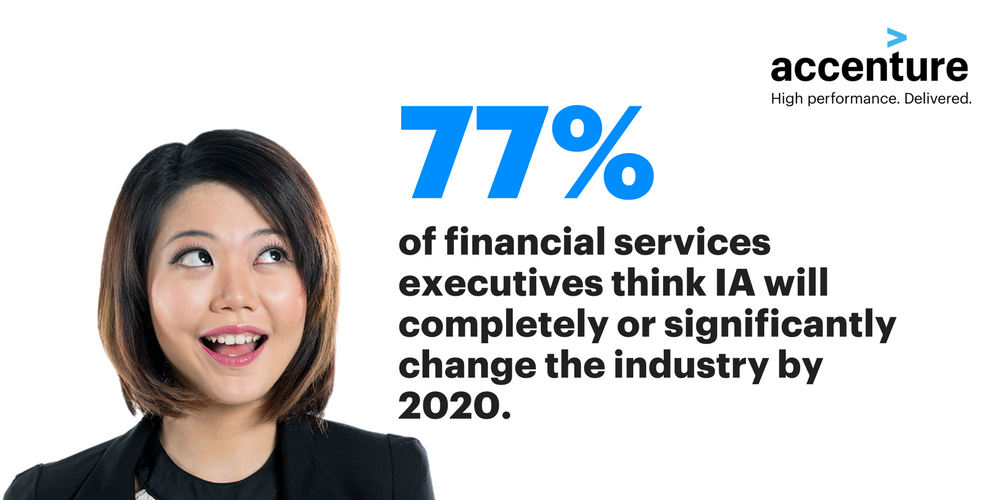 Seventy percent of FS executives surveyed feel that their organisation will be significantly or completely changed in the next three years as a result of IA. Seventy-seven percent see this for the industry as a whole.
In other words, IA is likely to transform every facet of the typical FS organisation. Many choices about IA investment and implementation will be made by various division leaders within each FS organisation. Accenture research divides the benefits of IA in FS into four categories:
Efficiency: IA excels at performing routine activities based on well-defined rules. Some industry reports predict it could lower the cost of work in retail banking by up to 80 percent.
Expertise: IA supports human decision-making by accelerating analysis and offering advice.
Effectiveness:IA can act as a personal assistant for humans, improving their overall abilities.
Innovation: IA enhances creativity by identifying alternatives and making recommendations to optimise human choices.
It is striking that each of these categories is centered on people. IA can help people make smarter choices, help them get more done, lower the cost of action, and help us to see things in new ways. People are at the center of IA's impact on the FS industry.
That is why human resources has a unique role to play among in the adoption of IA in FS. HR needs to prepare people for the changes IA will bring, and to develop or source the rare talent needed to successfully implement those changes. Firms will only unlock the power of IA if HR takes the lead in developing an enterprise-wide IA people strategy.
It is a shame, therefore, that so few HR teams are prepared. Few FS firms have made much progress in preparing their people for IA. When it "completely or significantly changes" the industry, as most surveyed FS leaders think it will, most FS organisations will probably be caught flat-footed in the midst of corporate digital disruption.
Fortunately, though IA's biggest impacts will be profound, they are not yet here. As the Harvard Business Review puts it, the tipping point has yet to arrive. Yet these changes "always happen faster than expected." Since the widespread adoption of most innovations is usually followed by rapid acceleration, the HBR writes, "early preparation is needed."
Come back next week for a five-step guide for HR to start getting ready for the impact of IA in FS. In the meantime, the full report on which this post is based, authored by my colleagues Yohann Bollack and Mitch Lassman, is available here.