Other parts of this series:
---
As discussed in my previous blog, traditional investment advisory firms need not sit back and lose market share to the robo-advice offerings pioneered by FinTech firms.  Rather, traditional firms can automate many steps in the advisory process, using the same advisory algorithms that FinTech firms use but adapting those algorithms to their own advantage.  We call this the Robo4Advisor model, illustrated below.
The Robo4Advisor Model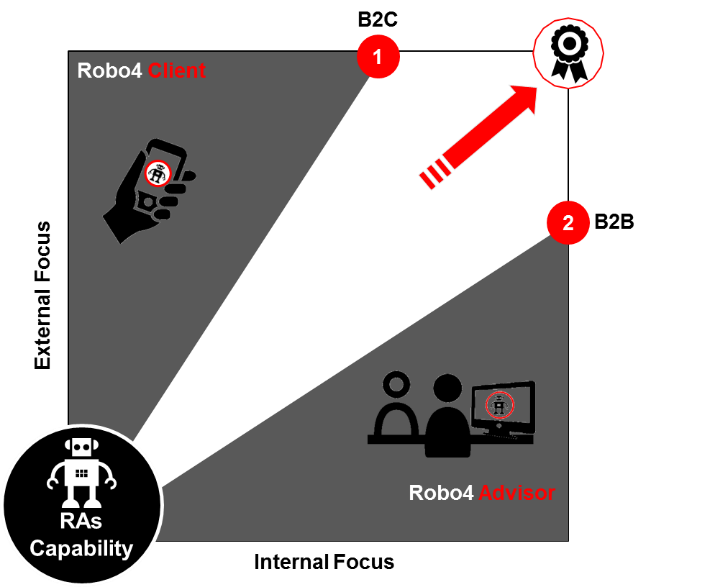 In the Robo4Advisor model, financial and investment advice would be provided by private bankers and/or relationship managers armed with personalized recommendations for their individual clients.  The Robo4Advisor would be involved as a digital assistant in certain phases of the advisory process – such as client acquisition or proposal formulation – but using a completely revised questionnaire, one that accurately identifies client needs and behavioral tendencies to gain insights that go far beyond those normally be gathered in a conventional risk-profiling exercise. The findings would position advisors to enrich a model portfolio with a personalized asset allocation.
In the after-sales phase, the Robo4Advisor could monitor and prompt appropriate actions to rebalance portfolios and keep them within certain limits, while adhering to the bank's investment strategies and market views. The Robo4Advisor offering would be completed by alerts and triggers, which would support bankers in their day-by-day relationship management activities and possibly also identify new business opportunities.
The Robo4Advisor concept may well be the answer to the continual clamor for strong personalization and rapid service from an increasingly demanding customer base.  In the face of new competition and continuing pressure on margins, traditional investment advisors will need such innovative approaches to attract and retain desirable customers.