Other parts of this series:
---
Our first blog looked at a key step that commercial banks should take to stay competitive: introduce cashflow management tools for small- and medium-sized enterprises (SMEs) as part of an overdue drive towards fully digital banking. In this blog, we look at the impact of COVID-19, and what commercial banks should do for themselves and for SMEs.
Challenging Times
COVID-19 has created two challenges for commercial banks: how to shore up their own businesses and scale capacity, and how to help their customers – particularly SMEs – stay afloat as those clients try to manage their cashflow in the face of lockdowns, supply chain challenges and decreased customer demand.
Countless SMEs globally have downsized in the months since COVID-19 emerged, and many have closed. Take the U.S.: economists projected that by early May more than 100,000 SMEs had shut permanently since the pandemic escalated in March.[1] That followed a warning in April by the U.S. Chamber of Commerce that the pandemic could cause 43 percent of SMEs to close permanently within six months[2] – from a total of about 30.7 million small businesses.[3]
Cashflow is at the centre of their difficulties: as of early May, nearly three-quarters of American SMEs said they would run out of cash in less than two months – and most would do so sooner (see chart).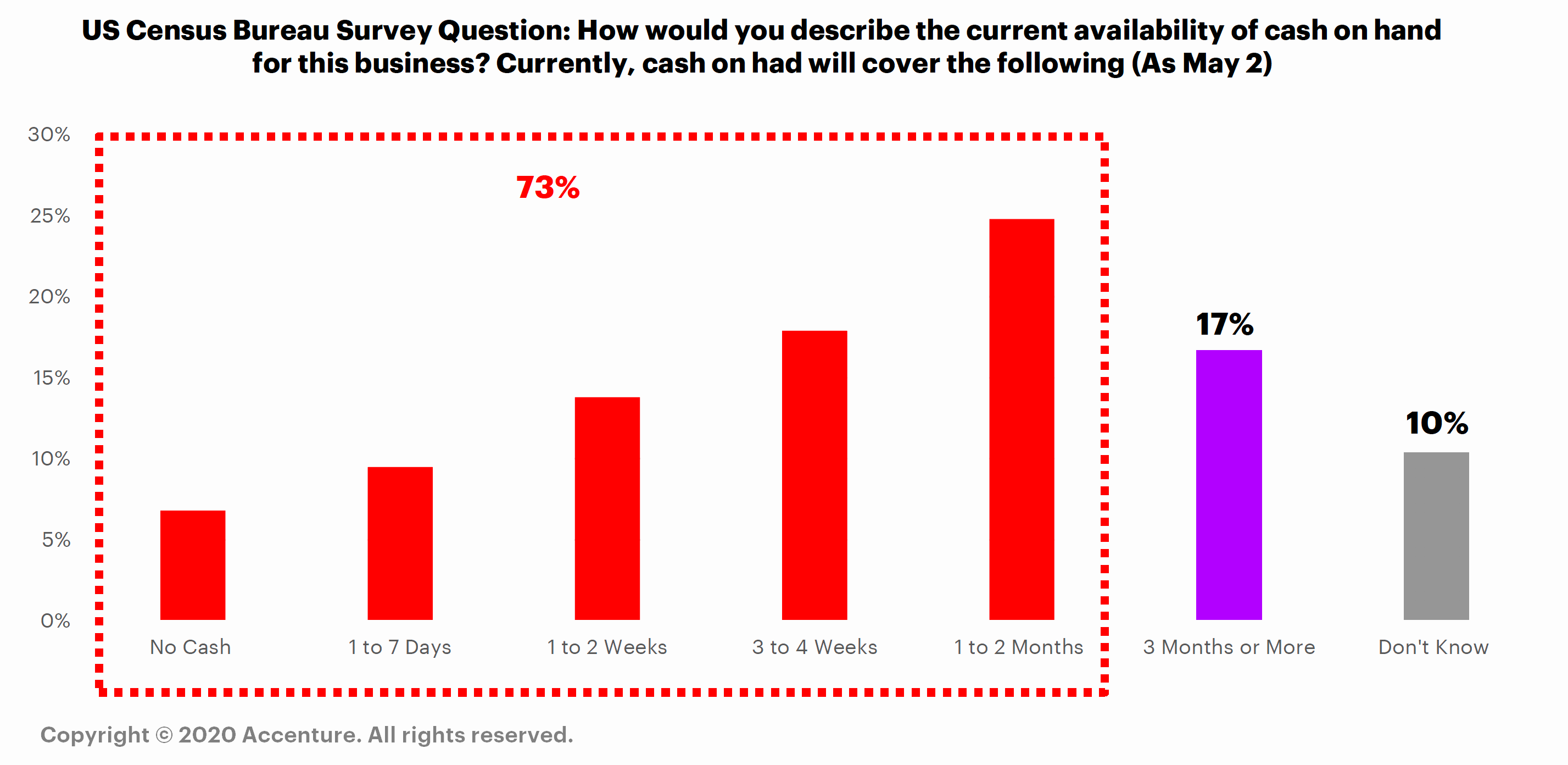 Source: U.S. Businesses Managing Impacts of COVID-19: May 20 Update (Accenture)
Commercial banks must ensure they can help SMEs access funding during the pandemic. And banks should take steps based on a 10/30/60-day strategy to ensure they emerge stronger when the crisis is over.
Access to Cash
Many governments have made public funds available for businesses, and particularly for SMEs, to help them weather this crisis. There is great need: the last few months have seen commercial banks inundated with an unprecedented level of requests from SMEs looking for help.
In part, this stems from SMEs trying to access funding available under government programmes. But it also includes requests for new loans; enquiries about modifying existing loan payment terms or interest schedules; asking about other facilities or line extensions; and seeking help in addressing impending credit-risk deterioration.
"Banks have provided vital finance and services to SMEs across the [United Kingdom] for many years, and I know you appreciate your role in the current crisis is particularly vital."

– Financial Conduct Authority, 2020
A lack of investment in digital solutions has left many commercial banks unable to scale their operations to handle this influx. At the same time, while governments and societies understand how important it is that funding reaches SMEs, they might not appreciate how constrained commercial banks are in scaling their processes to meet this demand and to channel funds to SMEs as fast as they are needed.
Those constraints play out in numerous ways: existing processes might require physical signatures or repeated interaction with the client for approval and drawdown; many commercial banks are in the early stages of their digital transformation journey, and so have limited availability of digital services; and employee safety means they are operating with a remote workforce, which further hampers efficiencies in a manual or partially digital processing environment.
The solution is to implement scalable processes that let customers rapidly draw funds from the financial system. Granted, these processes will be more manual and less scalable at first, but they can be made more efficient by redirecting as much volume as possible towards digital or automated facilities that are underpinned with elastic cloud computing capacity.
One leading Australian bank, for example, used digital origination channels to support over 70 percent of new credit applications after it rapidly implemented new eligibility criteria and less stringent credit policies – a far higher proportion through digital means than it had previously attained.
When it comes to assisting governments to distribute funds, commercial banks in APAC should review some of the market-based offerings that U.S. peers are using to evaluate SME requests and distribute funds to successful applicants. Those include bespoke solutions from Accenture, as well as others that we offer in partnership with companies like Finastra, nCino and Google.
The 10/30/60-day strategy
Commercial banks should be acting now to guide themselves through the pandemic and ensure they are positioned to emerge stronger when the crisis is over.
Instituting a scalable approach to digitising the funds' approval process is one such area. For example, during the 10-day window they should address pressure on new credit requests by designing a fresh loan-origination method or expediting their existing one to process high volumes of requests for government-backed loans. And within the 30-day window, commercial banks should dedicate data analytics specialists to model default projections beyond payment deferrals, and better understand the bank's credit risk position – ideally in real-time and using all available internal and external data.
This same strategy is useful when targeting actions in a broad range of areas:
Helping businesses to access financial support – for example, by granting access within 60 days to alternative and newer trade market ecosystems and trade e-marketplaces such as TIN and TradeIX that provide supply chain financing;
Digitising banking offerings and automating processes – for example, by partnering within 60 days with firms that can deliver rapid digital credit origination at scale, or working with software providers to set up out-of-the-box solutions to meet market demand quickly with minimum barriers to entry.
Proactively monitoring portfolios to shield credit quality – for example, by creating an advice portal for stressed businesses in need of immediate answers and solutions, such as finding cheaper rent, restructuring employee contracts, and accessing government funds or incentives.
Our next two blogs will look in more depth at data-driven banking to show how it can help those staff at the very heart of the commercial bank – relationship managers.
---
[1] Small business used to define America's economy. The pandemic could change that forever. Washington Post (May 12, 2020). See: https://www.washingtonpost.com/business/2020/05/12/small-business-used-define-americas-economy-pandemic-could-end-that-forever/
[2] MetLife & U.S. Chamber of Commerce Special Report on Coronavirus and Small Business (April 3, 2020). See: https://www.uschamber.com/sites/default/files/metlife_uscc_coronavirus_and_small_business_report_april_3.pdf
[3] 2019 Small Business Profile, U.S. Small Business Administration Office of Advocacy (2019). See: https://cdn.advocacy.sba.gov/wp-content/uploads/2019/04/23142719/2019-Small-Business-Profiles-US.pdf
[4] Letter to CEOs: Lending to Small Businesses, FCA (April 15, 2020). See: https://www.fca.org.uk/publication/correspondence/dear-ceo-lending-small-businesses-coronavirus.pdf
Disclaimer: This document is intended for general informational purposes only and does not take into account the reader's specific circumstances, and may not reflect the most current developments. Accenture disclaims, to the fullest extent permitted by applicable law, any and all liability for the accuracy and completeness of the information in this presentation and for any acts or omissions made based on such information. Accenture does not provide legal, regulatory, audit, or tax advice. Readers are responsible for obtaining such advice from their own legal counsel or other licensed professionals.