There's pressure on financial services firms across multiple fronts: from costs and cyber resilience to compliance and capital deployment. At the heart of these challenges is one thing: huge and growing quantities of data. And that's where serious problems are emerging.
For years, firms have focused their analysis on internal operations. Because it's been stored in structured databases, target data has been relatively easy to query. And data skills have become concentrated in this area. Now everything is changing. Surging quantities of unstructured data – flowing from free text, images, documents, sensors, videos, online and so on – hold essential intelligence. But firms need different skills to unlock the value in this data. And those skills are in very short supply.
Neither the education nor business sectors have been able to keep pace with the surge in demand. Of course, relevant data science and computer science educational courses and programmes exist, but there are relatively few of them. The result? Overall, less students are studying STEM (Science, Technology, Engineering and Mathematics) subjects in the UK, Wales and Ireland. By contrast, it is expected that by 2030 China and India could account for more than 60% of the STEM graduates in major economies, compared with only 8% in Europe and 4% in the United States.1
Demand for ICT (information and communication technology) skills is especially high in Ireland. Reported in the European Union's 'Skills Panorama,'2 research by the LinkedIn Corporation, analysing all hiring activity in Ireland in 2015, showed ICT skills dominated professional recruitment and appeared in nine of the top-10 list of skills. One-third of all difficult-to-fill vacancies in Ireland are in ICT.3
What is evident in our view is that this situation is tied to early schooling – that there is a lack of diverse 'talent' studying STEM to create the pipeline of skills needed by our evolving digital economies. Accenture's 2015 research shows that there are many barriers to studying STEM subjects including 58% of all students finding the syllabus 'difficult,' 46% finding there is a lack of information about the subjects, 29% claiming there is lack of clarity regarding future careers in the area, and for young women, 44% believing that the subjects are more suited to boys.4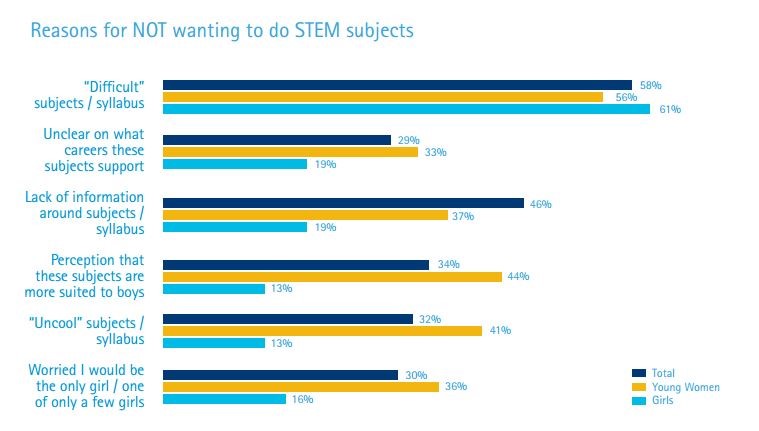 Source: Continuing to Power Economic Growth – Attracting more young women into Science and Technology 2.0, Accenture, 2015.
It is a serious skills shortage. And even when qualified data scientists join the business sector from the universities, they're lacking in vital industry and analytical experience. Furthermore, the impact of all this is exacerbated by the accelerating pace of technology change. Advanced analytics tools for addressing today's data challenges are readily available. But there are too few people with the skills to use them.
This massive mismatch in supply and demand means data scientists with the right experience are hugely sought after. Consequently, they command a high price. For a financial firm to attract and then retain its own team is a demanding, and very expensive proposition – especially when the firm is competing with digital native businesses for the best talent.
So how do financial firms deal with this situation? They need to become more intelligent about how they use analytics talent. Instead of trying to build their own in-house analytics capability, our experience indicates that a more effective strategy is to take advantage of the large pools of analytics talent out in the market.
For that reason, Accenture launched its Innovation Centre for Finance & Risk in the United Kingdom and Ireland, spread across two state of the art campuses in Dublin and Newcastle. It is a 'one-stop shop' where firms can easily tap into the data and analytics tools and skills they need, all backed by in-depth financial services risk and compliance experience.
Available as-a-service, it's a highly flexible and cost-effective way to access data-driven and data science solutions. And to help us deliver innovative solutions, we work with some of the world's leading tech firms, academia and specialised FinTechs (financial technology) to help financial firms stay at the forefront of innovation in this space.
Visit www.accenture.com/ICFR/uki for more information on the Finance and Risk Innovation Centre in the United Kingdom and Ireland.
References
"Number of students taking A-level stem subjects falls," Institution of Mechanical Engineers, August 18, 2016. Access at:  https://www.imeche.org/news/news-article/number-of-students-taking-a-level-stem-subjects-falls. "China opens a new university every week," BBC News, March 16, 2016. Access at: http://www.bbc.com/news/business-35776555.
"Ireland: Mismatch priority occupations," Skills Panorama. Access at: http://skillspanorama.cedefop.europa.eu/en/analytical_highligths/ireland-mismatch-priority-occupations.
Ibid
"Continuing to Power Economic Growth – Attracting more young women into Science and Technology 2.0," Accenture, 2015. Access at: https://www.accenture.com/t20160114T021355__w__/ie-en/_acnmedia/Accenture/Conversion-Assets/DotCom/Documents/Global/PDF/Dualpub_12/Accenture-Stem-Report-Final.pdf.
Disclaimer
This blog is intended for general informational purposes only, does not take into account the reader's specific circumstances, may not reflect the most current developments, and is not intended to provide advice on specific circumstances. Accenture disclaims, to the fullest extent permitted by applicable law, all liability for the accuracy and completeness of the information in this blog and for any acts or omissions made based on such information. Accenture does not provide legal, regulatory, audit or tax advice. Readers are responsible for obtaining such advice from their own legal counsel or other licensed professional.
About Accenture:
Accenture is a leading global professional services company, providing a broad range of services and solutions in strategy, consulting, digital, technology and operations. Combining unmatched experience and specialized skills across more than 40 industries and all business functions—underpinned by the world's largest delivery network—Accenture works at the intersection of business and technology to help clients improve their performance and create sustainable value for their stakeholders. With more than 373,000 people serving clients in more than 120 countries, Accenture drives innovation to improve the way the world works and lives. Its home page is www.accenture.com.
Copyright © 2017 Accenture. All rights reserved.
Accenture, its logo, and High Performance Delivered are trademarks of Accenture. This document is produced by Accenture as general information on the subject. It is not intended to provide advice on your specific circumstances.