As we have discussed how insurers can fight fraud and reduce claims losses, we have emphasized the need for good governance, the right operating model for anti-fraud processes, and a sound framework for integrating activities and delivering process excellence.
Once the insurer's operating model is in place, a proven methodology should direct process implementation.
Accenture's own methodology is illustrated below and should cover all type of frauds and all lines of business: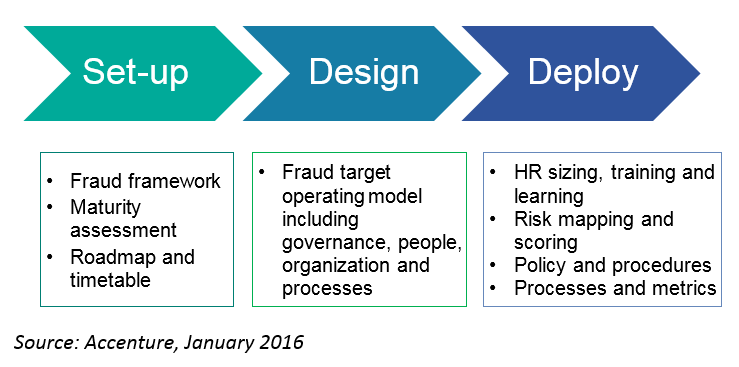 Each line of business should validate its deployment roadmap based on the entity's level of maturity, its change management priorities and their specific requirements.  For example, health claims management requires detecting fraud very quickly, in a preventive approach, as the claim is often paid out rapidly.  In property and casualty (P&C) insurance lines and assistance insurance, fraud has to be detected quickly and appropriately after First Notice of Loss (FNOL) in order to respond to clients' requests and expectations.
In the case of activities which might be outsourced — such as underwriting or claims — the insurance company should manage its business with the same level of protection and care as it would any other activity directly managed by its own departments.
The transition phase generally starts with implementing an awareness plan for fraud referents, claims handlers and managers, investigators, and the organization of training sessions (e-learning and on-site) according to the type of fraud, policies and operations, and channels of distribution among others.
People are a key element of the anti-fraud program. It is essential to integrate the competencies of different teams, including business, anti-fraud and legal departments, during working sessions. The benefits for the insurer are greater, especially for complex fraud cases involving bodily injuries.
Some key fraud indicators and reports should also be designed and deployed across all entities, countries and lines of business to accurately measure the level of control, and analyze if and how the organization works and/or needs to be improved.
In my next blog we will look at some of the benefits for insurers of an effective anti-fraud organization.
For our latest perspectives on Fraud and Financial crime, please click here.
Other parts of this series:
Part 1: Reducing Fraud Losses Represents a Profitable Opportunity for Insurers
Part 2: Organizing for Effectiveness in Fighting Insurance Fraud
Part 3: Fighting Insurance Fraud: Establishing a Solid Framework
Part 5: Fighting Insurance Fraud: Measuring fraud savings and benefits