---
Organizations that concentrate on improving their technological capability, but neglect the changing needs of their workforces, are likely to stumble on their journey to digital transformation.
Our research shows that most business leaders expect their companies to become digital organizations within the next couple of years – few of them have so far attained this status. The illustration below shows where a sample of 700 leaders in the world's major economies believe digital technology will deliver the greatest benefits.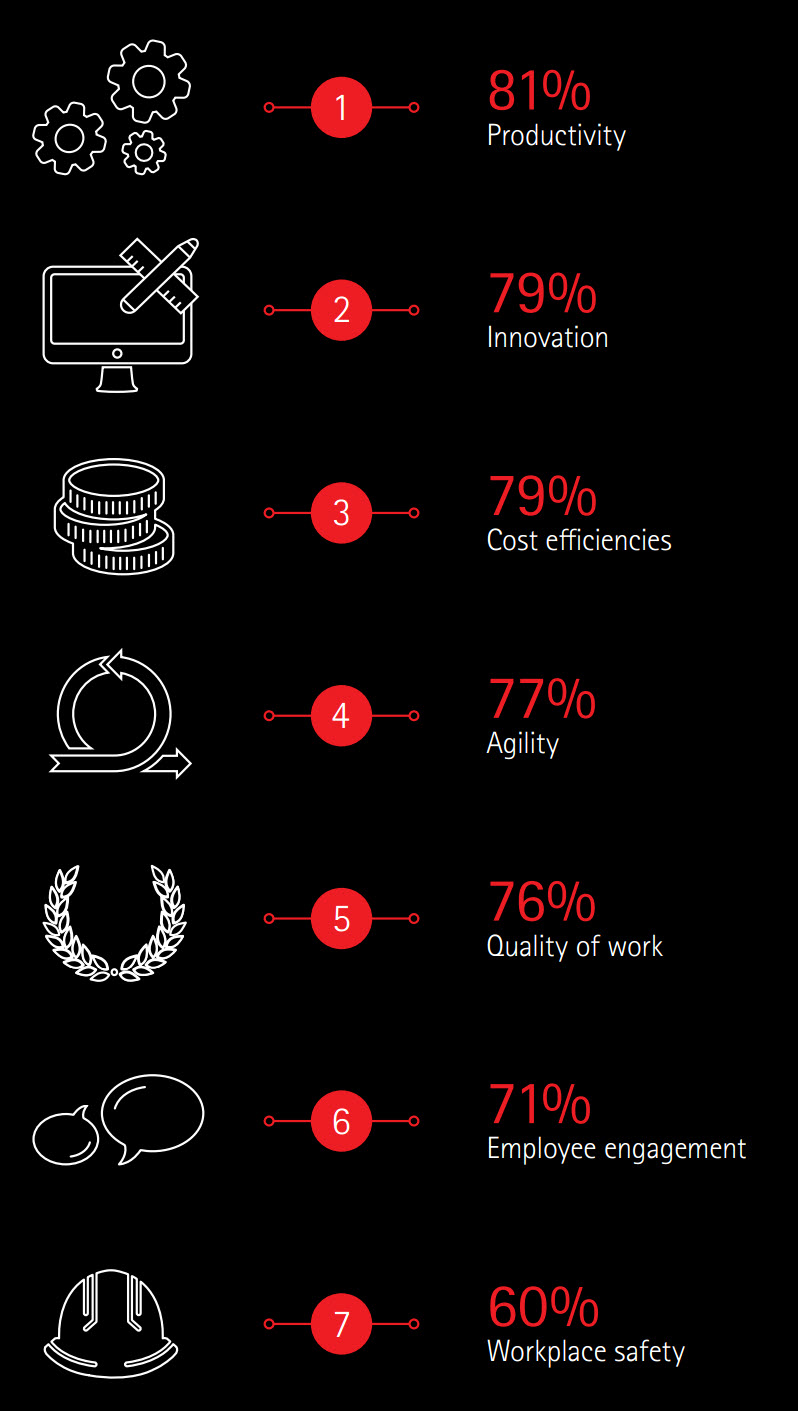 These are significant improvements. However, there's a danger that business leaders could overlook the impact of digital transformation on their workforces. Digital transformation is going to affect workforces substantially. Neglecting the changing needs of the workforce could stymie transformation plans.
Traditional, rigid, hierarchical organizational structures, built around descending layers of authority and specific job functions, have to yield to new, flexible, dynamic work configurations that link diverse skills to tackle particular projects. The need for such "liquid workforces" will be fueled by several powerful forces:
Ubiquitous information: Increased access to information, and the need for rapid decision-making, will greatly empower workers.  Authority will be devolved closer to the edges of the organization to encourage innovation, improvisation and prompt responses to customer needs and business opportunities.
Intelligent co-workers: Smart support systems will enable workers to combine extensive data resources with contextual knowledge to make swift, effective and often far-reaching decisions. Robotics and intelligent automation will fulfill routine administrative tasks and increasingly address customer service demands.
Widespread collaboration: Organizational boundaries will blur as platform-based business models, supporting multiple ecosystems, replace conventional, linear value-chains. Alliances and partnerships will be commonplace. Workers will collaborate with peers across the organization as well as with counterparts at other firms.  Co-operation within, and between, distributed teams of workers across a variety of geographies and cultures will accelerate.
Skills shift: Digital technology will replace many roles previously performed by knowledge workers but it will also fuel demand for a wide variety of new skills. Data scientists, digital experience designers, behavioral psychologists and community champions, for example, will be much sought after. The scarcity of key skills, and the greater mobility of workers, will require employers to blend their workforces with freelancers, contractors and home-based workers.
In my next blog post, I'll discuss some of the big obstacles to the digital transformation of the workforce. Until then, take a look at these links. I think you'll find them useful.
Being digital: Embrace the future of work and your people will embrace it with you
Change or be changed: Shaping the IT workforce of the future
The Impact of Technology on the Future of Work: From Looking Digital to Being Digital