---
The contact center has emerged as one of the most effective venues through which financial services firms can deliver a positive customer experience.  To deliver such an experience, however, firms need to establish a new focus on a largely overlooked resource:  The people in the contact centers who interface with customers on a day-to-day basis.  Contact center representatives or agents, who have historically been treated as a substitute for more expensive branch personnel, are now being asked to provide tremendous differentiation from the customer's perspective. Their role – to humanize and establish a connection – is becoming more, rather than less important in the digital era.
Firms continue to move to a self-service and process automation model for routine inquiries and transactions (such as address changes), pushing increasing responsibility to the customer.  Now, when customers deal with a contact center representative, they do so because their issues are too complex to resolve through automated or self-service options, or they may have found that the digital process has broken down and that human intervention is called for.  Increasingly, the firm seeks to deliver the "human touch" as part of the customer experience, but it is no longer as simple as answering the telephone. Just as the telephone augmented in-person business, now digital augments business conducted by telephone.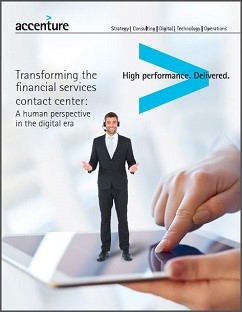 In this environment, financial services firms are finding it necessary to re-examine and redefine the ways in which contact center employees are selected, trained, equipped and motivated.  The firms need to impart new skills and, more importantly, new attitudes, so that contact center teams feel engaged, motivated and empathetic.  They need to supply the right tools, technology and information. They also need to adapt to new approaches to everything from performance tracking to career development.
We believe that a systematic approach to the workforce within the contact centers – based upon an understanding of the customer's expectations; the adoption of data-fueled technologies; and appropriate selection, training and development of contact center employees – can transform contact centers to a powerful engine for customer interaction.  Firms pursuing this course can protect hard-won customer relationships and seize opportunities to build upon existing connections.
In my next blog, I will look at some of the new standards which contact centers should meet or exceed to deliver a positive customer experience.
Read more:  Download "Transforming the Financial Services Contact Center:  A Human Perspective in the Digital Era"