In an age of rapidly changing customer expectations and disruptions from new entrants into the industry, it is time for banks to re-establish their relationship with their customers and once again become their trusted financial advisors.
There is significant value that banks can provide by putting their customers' genuine and holistic financial well-being first to serve them better. Cross-selling (or just selling) activities are just additional interactions in which banks can both learn more about their customers' needs while also demonstrating their value to customers. Banks need not abandon these opportunities, but embrace them in an ethical manner to create a win-win situation.
In order to accomplish this new value-add for customers, banks need to follow these four key steps:
1. Build new insights by aggregating all the different services, products, communications, interactions, and information the bank has with customers;training and educating frontline staff in how to interact with and engage customers; enabling an end-to-end customer management strategy. By building an infrastructure to both know and serve their customers, banks can begin to understand their customers better in an era of needs-based selling.
2. Design new incentive plans that include accurate target/goal setting, appropriate sales incentives, and holistic performance management. In this performance framework, sales goals can still be included, but with a different set of metrics and incentives, designed to focus on preferred customer outcomes.
3. Build strong governance and compliance at all levels of the organization and transaction flow. Banks need to monitor and measure the key steps in the sales process, from the perspectives of both the salesperson and the customer.
4. Cultivate an ethical sales culture that instills the philosophy that sales goal achievement is secondary to ethically serving customer needs, and support this philosophy with strong governance and compliance from leadership throughout the organization. Real-time communication and coaching goes a long way in reinforcing this overall culture.
In this new sales paradigm, successful banks of the future will transition from quantity to quality of sales. They will transform advisory to focus on real-life customer needs and re-orient sales effectiveness to measure the value-add for the customer. The key to matching customer demand with supply is to truly adopt a scientific approach to identify sales opportunities by leveraging customer information and advanced analytics, and to activate and tighten the analytics to adopt new behaviors for the workforce. By incentivizing long-term growth, banks can avoid short-termism and re-design sales behaviors on long-term relationship building strategies. That is a win-win for the banks and customers.
For more details on how to cross-sell in the new era, view the Slideshare presentation: Reinventing the Wheel: Bank cross-selling of the future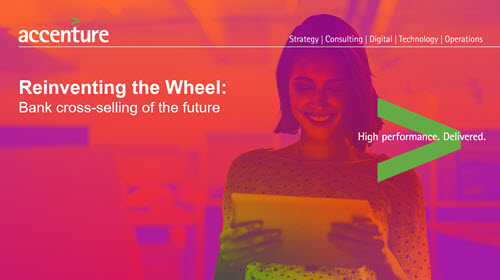 Visit our Advanced Customer Strategy page to learn how to acquire, develop and retain more profitable customer relationships and experiences.