---
To achieve sustainable cost and growth, financial services companies today can focus their efforts on new models of customer engagement. The marketplace is moving toward digital: smarter automation through robotics and analytics, and seamless channel integration via smooth channel transitions and end-to-end KPIs. From a business perspective, companies should try to make the most of these new technologies and key market forces that are driving change in the industry. From a customer perspective, the shift to digital will mean validating whether new channels will meet their financial needs. Customers should feel confident in new channels, and supported through a clear transition. Leveraging a selective human touch for high-value customer interactions will become key for enhancing customer relationships, as well as for optimizing workforce segmentation.
What does all this mean for the role of the contact center in tomorrow's financial institution?
The Contact Center of the Future will no longer be based on a cost center only model, but will be a strategic asset that drives channel migration and strengthens customer relationships. Contact centers will be able to meet customers' financial needs and wants, provide efficient remote guidance, and be present for the customer in emotional and differentiated moments of truth in the customer lifecycle. Much like the branch of the future will combine digital and physical worlds into a seamless "Phygital" experience, the key to the Contact Center of the Future will be combining the power of automation with the ability to identify customer needs to deliver a select human touch. Accenture's presentation illustrates how a future-oriented center might work.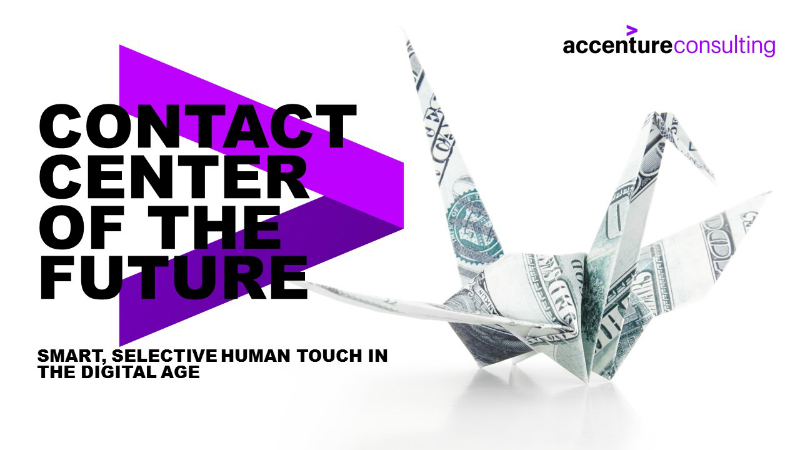 This new Phygital vision of the Contact Center of the Future will have big implications across the business:
Automation and beyond: Customer interactions will continue to be increasingly proactive and self-service. However, holdouts will remain for certain customer segments and targeted transactions, driving a divergent treatment method.
Costs: Counter to individual compensation, total labor costs have the potential to drop significantly within 5 years as a result of robotics and transaction migration investment. Continued customer trust in digital will further accelerate benefits.
Agent Skills: Shifting responsibilities will require contact center agents to understand big-picture customer history. Agents will need to be skilled in complex problem-solving, sales, and empathy and listening, in order to meet customer needs and drive migration.
Workforce: New agent skillset will, in turn, impact coaching, hiring, success metrics and incentives. The result will also create workforce dynamics that align the operation more closely with the branch.
New Models: Migration towards a Chief Customer Officer and long-term segment ownership will maximize outcomes for the customer and the company.
To realize the benefits of this Phygital vision, organizations first need to fine tune their own vision of what virtual engagement will look like for their customers, including the way in which they interact with the contact center. By focusing on opportunities to automate, as well as opportunities to leverage the human touch where it is most valuable, financial companies will be best suited to build a memorable customer experience while remaining cost-efficient.
In the next post, we'll look at balancing digital with the human touch in a contact center.