---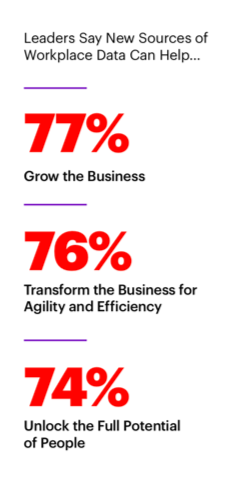 Companies around the globe are increasingly recognizing an untapped opportunity for growth: workforce data. Sourced from employee behaviors and performance, workforce data has the potential to elevate the employee experience, while bringing significant benefit to the company––but it won't come easily. In this series, I want to look at the challenges and opportunities for tapping into this valuable resource.
When people and intelligent technologies interact, they leave a digital trail that can be measured and analyzed. These analytics have significant value to companies and have the ability to improve everything from innovation to agility to employee performance and engagement. In fact, in a recent Accenture report titled "Decoding Organizational DNA: Trust, Data and Unlocking Value in the Digital Workplace," 77 percent of business leaders surveyed said they believe workplace data can help grow the business, while an additional 74 percent said it has the capacity to unlock the full potential of employees.
While all this may seem exciting, it is underpinned by a significant and meaningful challenge: how to get employees to willingly hand over their data. When it comes to information gleaned from their activity, employees harbor serious concerns about fairness, ethics and how the data will be used, which should come as no surprise in the wake of data scandals in recent years.
As these concerns mount, how can business leaders create an environment where employees not only consent to, but actively encourage, data mining? The best way to do that is by building trust.
How does trust affect a company's performance? One of the most significant impacts is on retaining and attracting top talent. Fifty-one percent of employees report that they would leave a company if their data was not used responsibly––and 55 percent of job seekers say they wouldn't even apply to such a company. Further to that, 56 percent of people would refuse to buy the stock of a company that was irresponsible in its use of workplace data.
When companies build trust, they also create value––for the business and for employees. Trust matters, and companies should be placing it at the heart of their business strategy. It is the currency of the digital age and transparency is key to building it.
Accenture research points to a framework of three key actions leaders can take to establish trust:

Over the upcoming posts in this series, I want to explore each of these three key actions in more depth. I'll look at how companies are learning to give employees more control over their data, how business leaders are collaborating with employees to build trust strategies, and how data can be used to elevate the employee experience.
In the meantime, if you're interested in reading the full Accenture report you can find it here.