Other parts of this series:
---
All segments of the financial services sector—from insurance to banking and capital markets—are transforming rapidly. While each segment is very different, the workforce challenges they face are similar. HR analytics is emerging as a potent tool to address these challenges, drive business performance and grow the bottom line.
To succeed in a digital environment, FS firms, like organizations across other industry sectors, need to be innovative and agile, able to respond at speed to changing market dynamics and customer demands, and to leverage emerging opportunities. For this, they need an agile and adaptive workforce. Many do not presently have one. Nor, unlike other sectors, are their prospects particularly bright:
FS faces a growing crisis as its existing workforce retires and it struggles to recruit top talent. FS is not considered an exciting career choice by a new generation of workers with key digital technology and data science skills.

Why are FS organizations unattractive to Millennials? Banks have a reputation to recover, but there's also the perception of FS as being staid, inflexible, and lacking in diversity and capacity to innovate.
What do Millennials want?
Born between roughly 1981 and 1997, Millennials are expected to comprise half of the global workforce by the year 2020. Millennials are digital natives—they expect technology to serve them in every aspect of their lives. Exposure via the Internet has also made them globally conscious individuals who are committed to bettering the world. Motivated by social factors over economic factors, they seek a life with meaning and look for the flexibility that allows them to enjoy themselves while being socially responsible. Importantly, tradition and convention in the workplace have little to no meaning for this generation—they believe everyone has an equal voice, regardless of their tenure, and should be judged on what they bring to the table. They show deep willingness to learn and take their responsibilities seriously.
Capturing and keeping Millennials as employees means meeting them on their own terms. They are looking for rewarding work with opportunities to grow and contribute. They want an employee experience that includes a personal connection with co-workers at all levels, the flexibility to get the job done in the way that works best for them, and experiential learning and growth with the goal of making a purposeful, meaningful, socially responsible contribution.
But this is just one part of the bigger workforce challenge FS firms face.
Reskilling, modernizing talent management
In addition to not delivering workplace experiences that engage younger workers, firms are battling to reskill older workers for the digital age, and many lack the tools they need to drive productivity and skills retention.

FS firms are not alone in clinging to traditional practices—our Decoding Organizational DNA research indicates that 80 percent of leaders across industry sectors are still using 'gut feel' and personal opinions to make decisions that affect talent management practices.
Sub-optimal recruitment practices and low engagement cost plenty: globally, organizations with low employee engagement experience 18 percent lower productivity, 16 percent lower profitability, 37 percent lower job growth, and 65 percent lower share price over time, according to the Harvard Business Review.
As disruption settles in to stay, the key challenges facing FS firms (and organizations across multiple other industry sectors) are:
Attracting and retaining scarce next-gen and digital talents,
Up- and reskilling existing workforces, and
Building a future-fit adaptive workforce with the right mindset and capabilities to drive innovation and growth.
In effect, FS firms must do two things if they are to fight back in the war for talent, and drive productivity and transformation. They must:
Reinvent the employee experience.
Increase the strategic value of HR.
Both these objectives will rely on workforce data—something leaders around the world are recognizing as a critical input. Accenture's Decoding Organizational DNA research surveyed 1,400 C-suite leaders across 13 industries and 13 countries on the topic. This is what we found:
77 percent believe that workforce data can help grow their businesses
76 percent believe it can transform their businesses into more efficient, agile operations
74 percent believe it will unlock the potential of their people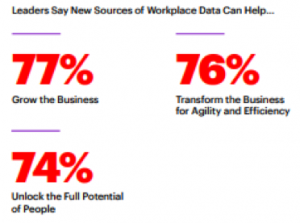 HR analytics can give FS HR teams the power to address growing workforce issues and positively impact the bottom line in ways never before possible.
Join me in the next two weeks as I explore the opportunities and benefits of data and specifically HR analytics for FS firms. I'll also discuss the ease of getting started with HR analytics and how factors such as trust have an impact.
Meantime, for more on this topic, click through to the following resources: Decoding organizational DNA, Becoming a data-driven enterprise.